A Michigan man will serve the rest of his life behind bars after he murdered his wife by lacing her cereal with heroin.
In sentencing 47-year-old Jason Harris on Friday, Genesee Circuit Court Judge David J. Newblatt did not mince words, Fox News reports.
"You are guilty. You did this. You are a murderer. You are a liar. I want to make that very clear. The jury saw through your lies and I see through your lies," Newblatt told Harris.
"The jury didn't believe your lies and now they've finally exposed you for the selfish, murdering, lying, monster you are."
Jurors in November convicted Harris of first-degree murder, solicitation of murder, and delivery of a controlled substance causing death in connection with the 2014 death of his wife, 36-year-old Christina Ann-Thompson Harris.
The couple lived in Davison, Michigan, about 60 miles north of Detroit, with their two young children.
Authorities initially ruled Christina's death an accidental overdose after she tested positive for heroin, but family members swore that she did not use drugs. Christina was a mother of two and had given birth four months before her death.
Two days after Christina's death, family members, including Harris' brother, went to police to express concerns regarding previous statements Harris had made "about getting rid of Christina" and that he had been seeing other women before she died, according to MLive.com
Harris told police that on the day of Christina's death, he had left for work in the morning and that his wife "was not awake and not talking to him but was coughing and in a restless sleep," Genesee County Prosecutor David Leyton said in court, MLive.com reports.
Later that day, Harris would call a neighbor to check on Christina after claiming that she was not answering his calls and text messages; the neighbor discovered her body inside the home.
Harris claimed that his wife had a cold and was being treated for asthma, but investigators later spoke with her mother, who said she was with her daughter the day before she died and seemed well.
Davison Police Detective Sgt. William Skellenger continued to investigate the case, speaking with friends and coworkers of the couple. He also sent samples of Christina's breast milk for testing, which showed that she did not use drugs before the overdose death.
New information would later come to light pointing to a murder plot.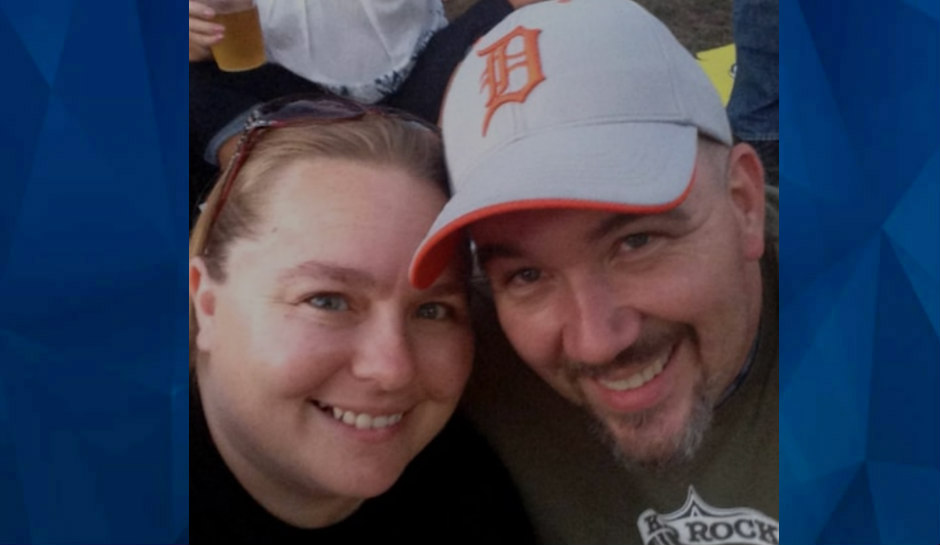 Police learned that Harris had repeatedly asked colleagues for assistance in killing or controlling Christina. Harris is said to have attempted putting Xanax pills he got from a coworker in his wife's water so she "would go to sleep and quit nagging," the Daily Beast reports.
However, Christina refused to drink the water because it tasted odd, and Harris reportedly then asked another coworker for pills that have no taste or odor.
Harris also asked coworker Zachariah Shustock to kill Christina in exchange for $10,000. Shustock refused but did not disclose the conversation to the police initially.
Detectives also found nearly 6,000 text messages between Harris and a woman from Rhode Island, in addition to communications and photos sent to multiple other women. Nine days after Christina's death, he flew to visit the woman in Rhode Island, according to WDIV-TV.
Within two weeks of Christina's death, a woman and her daughter moved into the home. Harris also collected $120,000 in life insurance benefits. Investigators ultimately determined that Harris laced Christina's cereal with heroin shortly before she died.
Harris spoke at the sentencing hearing. He did not apologize and asserted his innocence. Christina's mother, Kathy Mays, said the family now feels a sense of relief that Harris will be in prison for life. He is not eligible for parole.
"I feel now I can move forward and make sure she's resting in peace," Mays told WJRT-TV of her daughter.
A GoFundMe account is raising money to help Mays and her husband obtain custody of their grandchildren.
A coworker testified that he asked Harris why he didn't just divorce his wife; Harris reportedly responded that he did not want to be saddled with alimony or child support and wanted to maintain his relationship with his kids.
Harris told the worker he "just needed to get rid of Christina," NBC Tucson reports.
For the latest true crime and justice news, subscribe to the 'Crime Stories with Nancy Grace' podcast. Here is our latest episode. 
Join Nancy Grace for her new online video series designed to help you protect what you love most – your children.
[Feature Photo: Christina Thompson Harris/Facebook]