The lone Black member of the Jussie Smollett jury says he found the actor's behavior bizarre and agreed with the outcome of the case, WLS-TV reports.
Andre Hope, 63, of Bellwood, Illinois, told the television station that the evidence against Smollett was crushing.
Smollett was convicted on Thursday on five of six counts of lying to police after jurors determined that he falsely claimed two men attacked him while yelling homophobic and racist slurs in Chicago in January 2019.
The 39-year-old former "Empire" actor alleged that he was walking around 2 a.m. when someone yelled a racist and homophobic remark at him and that when he turned around, a man punched him and a second person kicked him, according to the Associated Press.
Smollett then claimed one of the men exclaimed "MAGA country" and that he noticed a noose had been placed around his neck, the AP reports.
Smollett claimed he wore the noose home, removed it, and then put it back on when responding officers arrived.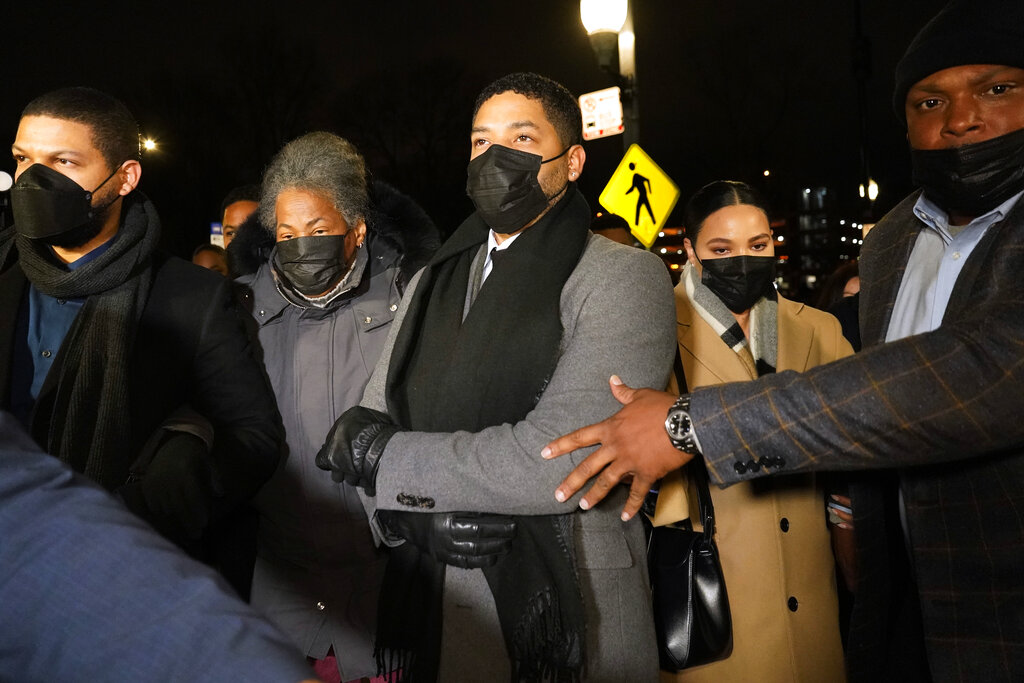 Investigators later determined that Smollett staged the assault and that he paid two brothers, Abel and Ola Osundairo, $3,500 to attack him. The brothers testified that Smollett told them to say "this is MAGA country" during the incident, according to the AP.
Smollett denied the allegations, testifying during the trial that he did not fake the attack. He also asserted that he and Abel Osundairo were involved in a sexual relationship before the alleged attack, which Osundairo denied.
"There was no hoax," Smollett had testified, according to CBS News.
Ultimately, the jury didn't buy the story. Hope said he still does not understand what prompted Smollett to make the false accusations.
"I still have not figured out a motive for why he did, why this had to even happen," Hope told WLS-TV. "He was a star."
Hope is a retired Cook County Forest Preserves employee who has two sons around the same as Smollett. He told the television station that he had never seen "Empire" or was aware of the details of the case before being selected for the jury.
"Two o'clock in the morning. Cold outside. When you just use your common sense as what's there, yeah it just, it didn't add up," Hope told WLS-TV.
Hope said the alleged noose was a key piece of evidence. Body camera footage showed Smollett putting the rope on him to demonstrate for the police.
"As an African American person, I'm not putting that noose back on at all," Hope told the television station.
The jury deliberated for nine and a half hours. Hope told WLS-TV that time was spent thoroughly reviewing the case, and that jurors never argued or were deadlocked.
Hope commended the rest of the jury, but he expressed disappointment that he was the only Black person to sit on the panel.
"Because how can we say that this is a jury of your peers when there's only one African American?" Hope told WLS-TV. "And there were plenty there, so you could've gotten two, three, four. African Americans can handle the truth, too. And we can give an impartial judgment on a case."
Sentencing is likely months away, according to the Chicago Tribune. Smollett faces up to three years in prison on each count, but experts told the Tribune they are doubtful Smollett will face prison time, and if he does, any sentence would likely run concurrently.
Hope said he does not believe Smollett should be sent to prison.
For the latest true crime and justice news, subscribe to the 'Crime Stories with Nancy Grace' podcast. 
Join Nancy Grace for her new online video series designed to help you protect what you love most – your children.
[Feature Photo: FILE – In this courtroom sketch, actor Jussie Smollett stands with his legal team in a Leighton Criminal Courthouse courtroom on Dec. 9, 2021, in Chicago, after a jury found him guilty on five of six charges he staged a racist, anti-gay attack on himself and lied to police about it. The lone Black juror on the panel that convicted Jussie Smollett of lying to police about what authorities say was a staged hate crime says he cannot get past how the actor put a noose around his neck when police were coming to interview him. (AP Photo/Cheryl Cook, File)]