Police have made multiple arrests in connection with the deaths of two women whose lifeless bodies were dumped at hospitals around Los Angeles last month, KABC-TV reports.
Loved ones of the women – Christy Giles, 24, and Hilda Marcela Cabrales-Arzola, 26 – allege that they were drugged without their consent after a night of partying.
Security camera footage captured men in face masks leaving the bodies at the hospitals and driving away in a vehicle without license plates, according to the Daily Mail.
Giles was a model and an aspiring actress from Alabama, and Cabrales-Arzola was an interior designer from Mexico, according to KABC-TV.
It remains unclear what exactly happened to the women, but Giles' husband, Jan, told the Daily Mail that security camera footage shows Giles and Cabrales-Arzola leaving a party with the men in the early morning hours of November 13.
Phone location data appear to place Giles at an apartment near Beverly Hills around 5:30 a.m. when she texted Cabrales-Arzola "let's go" with an emoji of a shocked face.
View this post on Instagram
In a reply, Cabrales-Arzola wrote "Yes. I'll call an Uber." She indicated that a car was 10 minutes away, but the women never took it.
A friend then texted Giles at 5:36 a.m. asking where she was, but 'read' receipts showed that Giles did not read the text or others following it, according to the Daily Mail.
About 12 hours later, security cameras recorded a black Toyota Prius without license plates at Southern California Hospital in Culver City, where men wearing hats and masks unloaded and abandoned Giles' body. Two hours later, the men left Cabrales-Arzola's body at Kaiser Permanente West L.A.
Giles was pronounced dead a short time after being found. Cabrales-Arzola was declared brain dead and was taken off life support on November 28, one day before her 27th birthday, according to KABC-TV.
Heroin was found in Cabrales-Arzola's system, KABC-TV reports; Giles' toxicology report has not yet been released.
Friends and relatives of the women believe that neither would have willingly consumed drugs.
Investigators later spoke with the men. They allegedly admitted to taking the women home but claimed that Giles and Cabrales-Arzola voluntarily ingested drugs and overdosed. The men claim they brought the women to the hospitals immediately.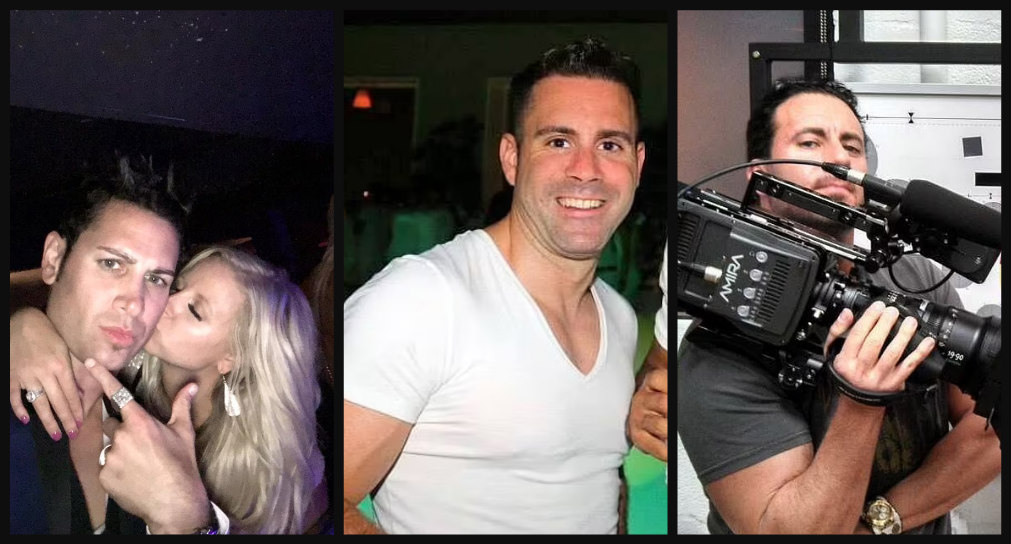 The three men have been identified as David Pearce, Brandt Osborn, and Mike Ansbach.
Booking records from the Los Angeles Sheriff's Department show Pearce, 37, was arrested Wednesday at 11 a.m. and is being held on $1 million bail. Osborn, 42, who is Pearce's roommate, was detained Wednesday afternoon and has been assigned $100,000 bail.
Details about Ansbach, 47, were not yet available.
The Daily Mail approached Osborn last month outside his apartment; he did not comment except to allege that he was the target of "slander," according to the news outlet.
Neighbors reported seeing the men loading a moving truck in December, according to the Daily Mail.
A friend of Giles and Cabrales-Arzola told the Daily Mail that Pearce and Ansbach were "obnoxious" and "crazed" at a party on the evening of November 13. The friend suggested that Pearce and Ansbach had snuck into the party without being invited.
"Their energy was off. Usually in this industry people are very cool and chill, and they're respectful. But these men were obnoxious. They took their shirts off and started flailing around like they were on speed or something. There was a certain energy of craziness," the friend told the Daily Mail.
Cabrales-Arzola's father, Luis, told KNBC-TV that the family was with her once she was hospitalized. They decided to donate her organs.
"We're all devastated but grateful that God let us have her with us for almost 27 years and allowed us to come here and say goodbye to her," Cabrales Rivera told the television station.
"I'm grateful that with her last breath she will be able to give life to others and that she will live on in the heart, eyes, lungs, of someone else."
A GoFundMe account is raising money to hire private investigators and help defray funeral and memorial costs for both Giles and Cabrales-Arzola.
For the latest true crime and justice news, subscribe to the 'Crime Stories with Nancy Grace' podcast. Here is our latest episode. 
Join Nancy Grace for her new online video series designed to help you protect what you love most – your children.
[Feature Photo: Christy Giles/Instagram]