Kentucky authorities on Friday stopped a "caravan of suspects" leaving storm ravaged parts of of Graves and Calloway Counties with damaged vehicles, copper, and other personal property belonging to victims of the deadly tornadoes that slammed the state earlier this month.
Five people were arrested on a variety of charges, including automobile theft and drug possession, the Graves County Sheriff's Office said.
The sheriff's office said police were alerted to a particularly hard hit area Friday afternoon — just a half mile from the Mayfield candle factory where eight people died when the tornado destroyed the building — on a report of suspicious activity, specifically suspects who appeared to be working in a group rummaging through property. When deputies and Kentucky State Troopers arrived on the scene, they found the group leaving the area.
The officers "found a variety of personal items belonging to tornado victims, including some household goods, new shoes, muddy change, copper wiring, and other items," Sheriff Jon Hayden said.
"They were also towing several vehicles that were owned by tornado victims that have been displaced by the tornado, in the hospital, and/or deceased," Hayden said.
Investigators said the suspects gave conflicting statements about whether they had permission from homeowners to take the items, and many of their claims were disproven when deputies spoke with homeowners. Deputies said they seized methamphetamine and more than $120,000 in cash.
The sheriff's office said that Kevin Stowe, 55, was charged with automobile theft and theft of motor vehicle registration after the vehicle he was driving was found with a stolen license plate. Stowe, from Union City, Tennessee, also had possession of the cash, investigators said.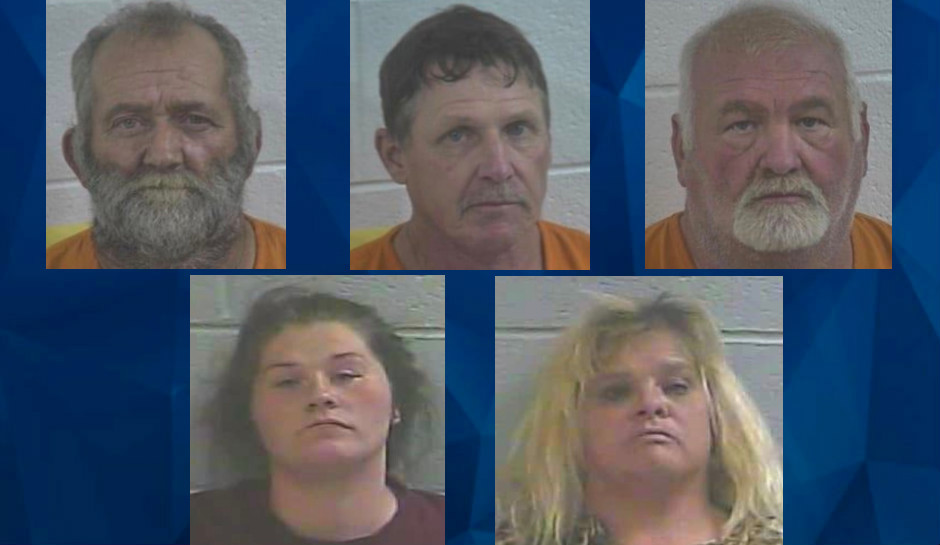 Ronnie D. White, 57, and Lynne E. Bailey Jr, 56, were both charged with automobile theft. Both are from Hickman, Kentucky.
Linda K. Morris, 52, was found in possession of copper wiring and a pair of "Ugg" boots stolen from a tornado victim's home, as well as syringes containing methamphetamine. She was charged with automobile theft, possession of methamphetamine, driving on a suspended license, and theft of personal property. She is from Dresden, Tennessee.
Kaitlyn R Moore, 29, was charged with automobile theft, possession of methamphetamine, and tampering with physical evidence after she was found to have "hidden methamphetamine in her body cavity … as they were being stopped by law enforcement."
The suspects are being housed at out-of-county jails, Hayden said.
Also on Friday, Kentucky Attorney General Daniel Cameron and the Princeton Police Department announced the arrest of four men from Michigan who were allegedly stealing from storm-damaged homes and vehicles in Caldwell County.
Mitchell E. Stanton, Jesse H. Stanton, Sevon E. Gowen, and Brandon L. Ransbottom were all charged with possession of burglary tools and receiving stolen property. Additionally, Gowen faces charges of possession of methamphetamine and promoting contraband, and Ransbottom was charged with possession of a handgun by a convicted felon and possession of marijuana.
For the latest true crime and justice news, subscribe to the 'Crime Stories with Nancy Grace' podcast
[Featured image: Graves County Sheriff's Office]