The leader of a cult that has reportedly been tossed from three central American countries was arrested in Georgia last week and charged with rape, false imprisonment, and transmitting sexually explicit images "without the consent of the depicted person."
Eligio Bishop, 37, reportedly calls himself "God" and was known as "Nature Boy" while in Costa Rica late last year, the Costa Roca Star reported.
In Georgia, DeKalb County Police launched an investigation on March 30 and executed search and arrest warrants last Wednesday, taking Bishop into custody in an upscale neighborhood just outside Decatur, WXIA reported.
The rape and false imprisonment charges stem from an incident on March 24, according to arrest warrants obtained by the Atlanta television station. He appeared in court on Friday, where a judge ordered a bond hearing to be held later on.
The station said that earlier iterations Bishop's group focused on nudism and sexual themes, but more recent social media offerings appear to focus on Black liberation and his own messianism. Bishop is referred to a "Th33God" on those accounts, and posts on his Instagram account since his arrest have shared a hashtag to Fr33 Th33 God and speculating that he may be more powerful when he is released from jail.
Followers posted videos on a different Instagram account after his arrest that included a phone call with their leader.
"I know that I've scared a lot of people," he said. "Truly I'm a sweet person."
He also claimed to be "misunderstood" and said he was only "trying to help people."
"They want to crucify me, they want me dead, there's hate that surrounds me, you can feel it, just like any other prophet — only me, I'm the return of the Christ," he added.
His Facebook page says he works at "Messiah" in "The Kingdom of Heaven."
The Star reported that Bishop "allegedly requires cult members to surrender all their money, credit cards, bank accounts, and pin numbers, in order to worship with the group." The newspaper also said that the group believes in polygamy and not bathing, adding that they were barred from a Spirit Air flight because of body odor after they were ordered deported from Costa Rica last year.
Bishop, an American citizen, reportedly turned the incident into a promotional video.
The group has also been thrown out of Nicaragua and Panama.
It's not clear what name the group goes by now, but it has been known in the past as Melanation and Carbon Nation.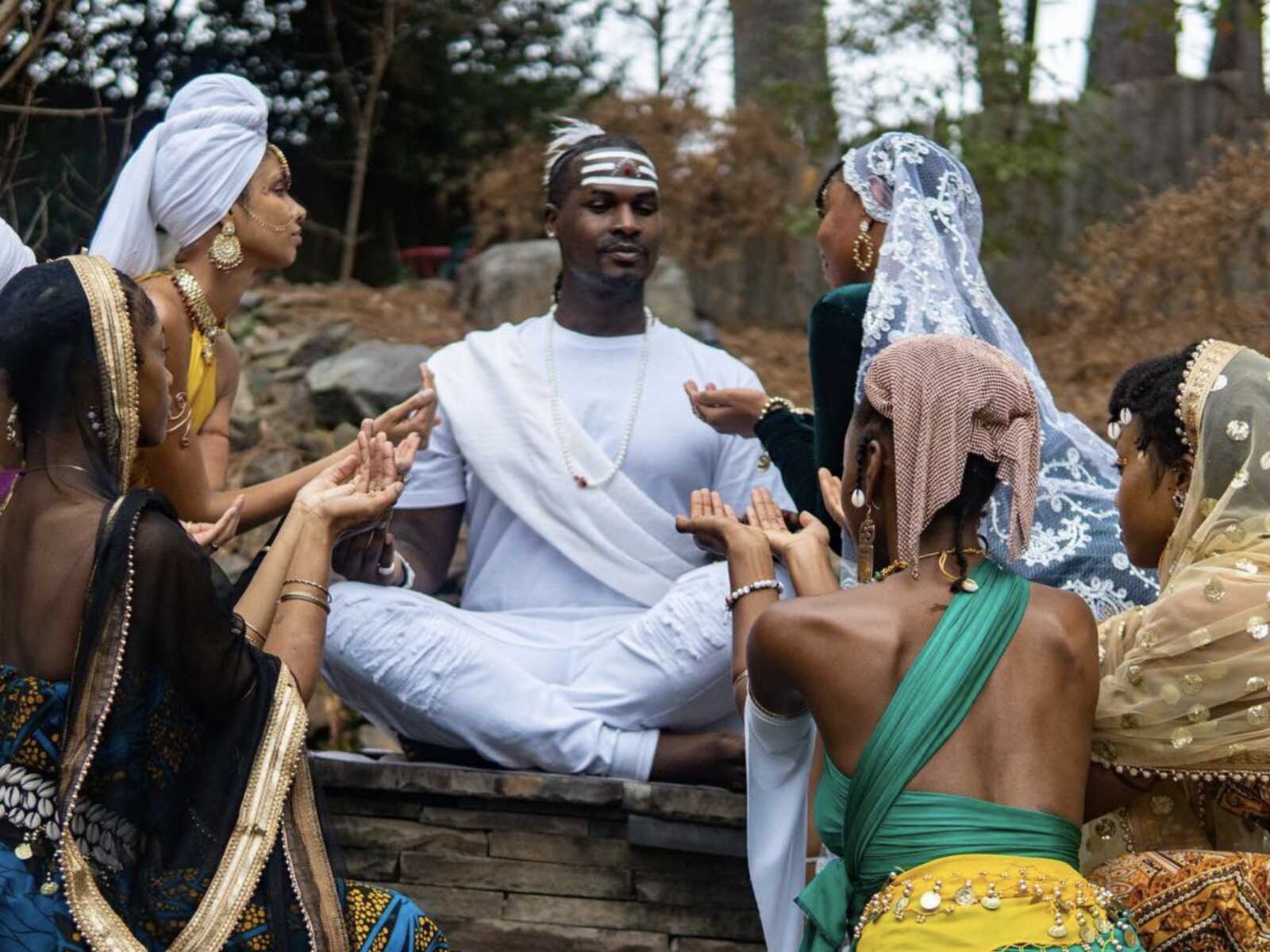 A former member of the group who joined when it was called Melanation in 2006, told WXIA that "the only hope" for people in his cult "is for him to be locked up right now."
"For him to be locked up period," Erika Carroll said. "It's too many things he has gotten away with."
Carroll said she answered a Facebook post in 2006 and went to Honduras to join up with the group, which at first seemed to be exactly what she was looking for.
"We'd have to sit in these long meetings — he'd say we'd be facing our demons while doing that. But basically he's just projecting onto you what he has going on inside of him," she said. "It was a lot of verbal and mental abuse."
And then, she said, she witnessed an altercation between Bishop and one of his girlfriends.
"He beat her," she said. "He hit her in the mouth, he slapped her up and punched her a couple of times and then he told her to go to the tent and give him oral sex. That was the breaking point for me. Once I seen that I was like oh no. She left the day after and I left the day after that."
She told the station she kept in touch with Bishop after she left, and that it appears the situation has gotten worse in the subsequent years.
"Even a couple of days ago I texted him and said, 'Your days are numbered.' I don't know what made me say it but I told him your names are numbered … and look what happened," she said.
For the latest true crime and justice news, subscribe to the 'Crime Stories with Nancy Grace' podcast.
[Featured image: Eligio Bishop and followers/Facebook]