The brother of an escaped Alabama prisoner is missing and police say they've exhausted several leads trying to find him.
According to Sheriff Max Sanders of Lawrence County Sheriff's Office, escaped convict Casey White has a half-brother, Steven White (pictured left), who has been missing since October 27, 2017. Casey White is currently wanted for escaping from jail, allegedly with the assistance of the county's Assistant Director of Corrections, Vicky White.
"We occasionally get a call from the public about the fellow's whereabouts. We follow it up but so far nothing has panned out," Sanders told Al.com, regarding Steven White's disappearance.
Sanders added that Casey White was in prison when his brother disappeared.
According to police, Steven's wife contacted police and reported him missing, prompting the Lawrence County Rescue Squad to search his home and surrounding area. Nothing was found at his residence and the team began a second shirt in November 2017 while utilizing a dive team. Both searches didn't produce any information on Steven's whereabouts.
Anyone with information about Steven and/or his whereabouts should contact the sheriff's office at 256-974-9291. The sheriff said a $2,000 reward is on the table for information that leads to Steven.
As CrimeOnline previously reported, police issued a warrant for Vicky White's arrest earlier this week, charging her with assisting in the escape of a convicted felon. Marshals are offering a $10,000 reward for Casey White's capture and $5,000 for Vicky White.
Police said the pair may be in a gold/copper 2007 Ford Edge with an Alabama license plate.
Lauderdale County Sheriff Rick Singleton noted that before she fled, Vicky White had broken protocols — which were put in place several years ago when the same inmate tried an escape — requiring two sworn deputies to transport a prisoner.
"This leads us, again, to believe it was orchestrated because we had two vans of inmates leave just minutes before Director White had Casey White brought up front," the sheriff said. "Both of those vans had two deputies on them. One have five inmates, the other had seven inmates."
Friday — the day of the escape — was supposed to be Vicky White's last day of work, as she had recently put in for retirement, Singleton said.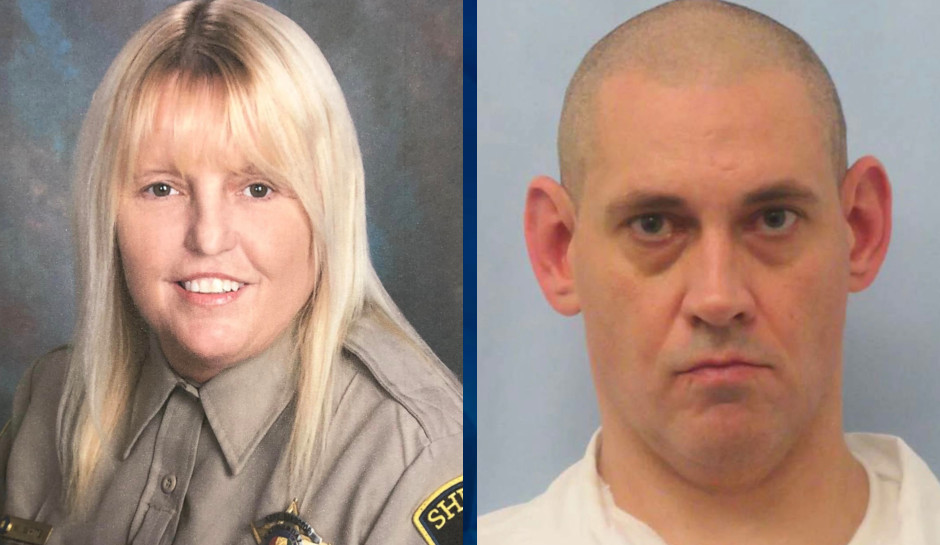 Additionally, she had sold her house in early April and was living with her mother, Pat Davis. Davis told WAAY that her daughter never mentioned Casey White or even that she was retiring.
"You know, I never heard of him, never seen his picture, nothing. I didn't know anything about him," she said.
"She's never done anything, I bet she's never even had a speeding ticket. But I mean, she's always been what I say a good person. And like I say, this is all a shock."
Vicky White is described as a white female who stands 5-feet-5 inches tall and weighs around 145 pounds. She has blond hair, brown eyes and walks with a specific waddling gait.
Casey White is described as a white male who stands 6-feet-9-inches tall and weighs ar0und 330 pounds. He has brown hair and hazel eyes.
Anyone with information about the pair should contact the USMS Communications Center at 1-800-336-0102. Anonymous tips can be submitted to the U.S. Marshals Tip App.
For the latest true crime and justice news, subscribe to the 'Crime Stories with Nancy Grace' podcast.
[Featured image: Steven and Casey Cole White/Police Handout]