Ten people were killed Saturday by an 18-year-old gunman who drove more than three hours to carry out his attack, fueled by the racist "great replacement" conspiracy theory, according to a lengthy manifesto he published online. Law enforcement is investigating the shooting as a hate crime, and federal authorities are looking at it as "racially-motivated, violent extremism." as CrimeOnline previously reported.
Thirteen people were shot in all. Eleven were Black, two were white. Four were store employees, nine were shoppers. Four were shot outside, nine inside. Of the four store employees who were shot, only security guard Aaron Salter was killed. Of the three shot outside, one survived. The deceased ranged in age from 32 to 88. Four were men, and six were women.
These are their names:
Aaron W. Salter Jr, 55. Retired from Buffalo Police Department in 2018, Salter had worked security at the Tops market since then. Salter engaged Payton Gendron at the start of the massacre and shot him, but the teen's body armor protected him. (Buffalo News)
Ruth Whitfield, 86. Whitfield was the mother of retired Buffalo Fire Commissioner Garnell W. Whitfield and three other children. "She devoted her life to her family," her son said. (Buffalo News)
Katherine Massey, 72. A longtime civil rights and education advocate in Erie County, Massey had gone to Tops to get some groceries. Her sister and their brother were supposed to pick her up when she was done. (Buffalo News)
Roberta Drury, 32. A shopper, she had recently returned home to live with her mother, who said she had just walked out of the Tops market when Gendron shot her in the head. (Buffalo News)
Heyward Patterson. A deacon at True Bethel Baptist Church who frequently gave members a ride to the Tops market and helped with their groceries, Patterson died doing just that. He was helping an elderly woman load her groceries into her car when Gendron shot her — the first person he shot. Patterson was the second. (Buffalo News)
Celestine Chaney, 65. Chaney was visiting her sister, and the two went to the market. When the shooting started, her sister made it to safety. (New York Times)
Pearl Young, 77. Young ran a food pantry every Saturday for the past 25 years and loved singing, dancing, and family. She was a native of Alabama. (Madison Carter, Buffalo native reporter for WXIA in Atlanta)
Margus D. Morrison, 52. Morrison was the father of three. (WKBW)
Andre Mackneil, 53. Mackneil was buying a cake for his 3-year-old son's birthday at Tops. (NBC News)
Geraldine Talley, 62. Talley was shopping with her fiance at Tops. (Buffalo News)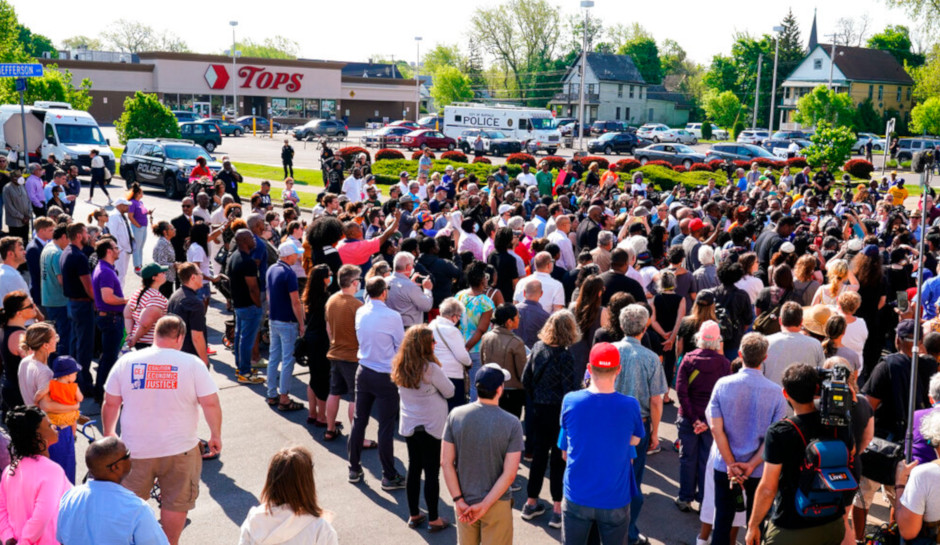 The injured:
Christopher Braden, 55. Braden remains hospitalized in stable condition. (Buffalo News)
Zaire Goodman, 20. A Tops employee, Goodman was collecting shopping carts in the parking lot when he was shot through the neck. He has been treated and released and is the son of Zeneta Everhart, the director of diversity and inclusion in the office of state Sen. Tim Kennedy. (Buffalo News)
Jennifer L. Warrington, 50. Warrington is a pharmacist at the supermarket. She was released Saturday from the Erie County Medical Center. (Buffalo News)
For the latest true crime and justice news, subscribe to the 'Crime Stories with Nancy Grace' podcast.
[Featured image: Top, L-R, Ruth Whitfield, Aaron Salter Jr, Katherine Massey, Pearl Young, and Margus Morrison. Bottom, L-R, Roberty Drury, Heyward Patterson, Celestine Chaney, Geraldine Talley, and Andre Mackneil/various handouts]