Update Wednesday morning: Latest reports indicate 19 children were killed in Tuesday's shootings.
Original story:
At least 20 people — 18 of them second-, third-, and fourth-graders — were killed Tuesday morning when an 18-year-old Texas high school student opened fire in an elementary school just two days before the end of the school year.
State police told KENS that two adults were dead — a teacher at Robb Elementary School and the gunman, identified earlier by Texas Gov Greg Abbott as Uvalde High School student Salvador Ramos. State Senator Roland Gutierrez of San Antonio, however, told the Associated Press that three adults were dead. Federal law enforcement sources told the AP the death toll was expected to rise.
Law enforcement sources not authorized to speak publicly told the AP that a Border Patrol agent was in the area when the shooting started and rushed into the school without waiting for backup. The agent, who was wounded, shot and killed the gunman, who behind a barricade.
KSAT reported that one of the slain teachers has been identified — Eva Mireles, a 17-year veteran of the school district. Her aunt issued a statement about the "tragic senseless shooting":
Eva MIreles/handout

"I'm furious that these shooting continue, these children are innocent, rifles should not be easily available to all. This is a my hometown a small community of less then 20,000. I never imagined this would happen to especially to loved ones. not all the facts have been released yet all we can do is pray hard for our country, state, schools and especially the families of all."
It's not clear how many people were injured. Earlier in the day, Uvalde Memorial Hospital said that 15 people were transported there, and two were pronounced dead on arrival. Two other patients were reported to be in critical condition at University Hospital in San Antonio — a 65-year-old woman and a 10-year-old child, according to KENS.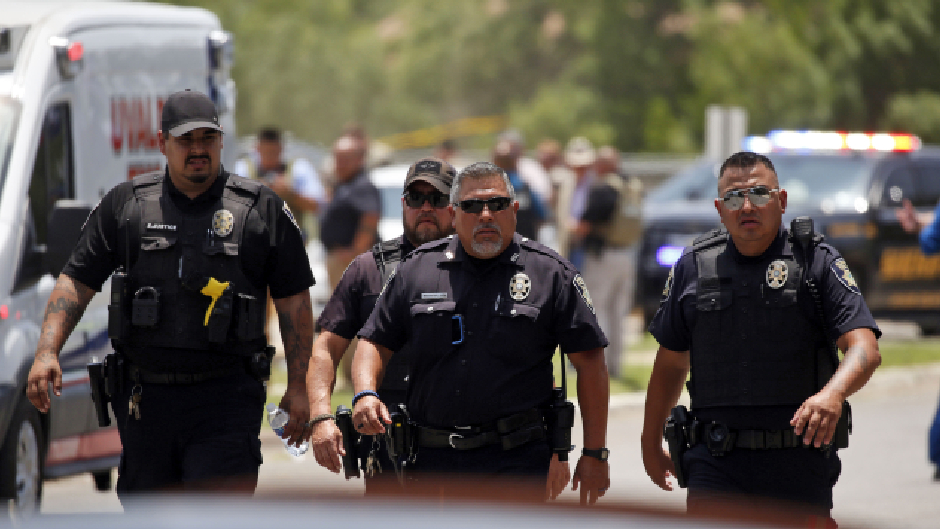 School officials held two news conferences after the shooting but provided little information and took no questions.
Uvalde Consolidated Independent School District Police Chief Pete Arredondo told reporters that "the intruder is deceased, and we are not looking for anyone else."
Multiple agencies — federal, state, and local — responded to Robb Elementary School just after 11:30 a.m. Tuesday morning on reports of the shooting. Ramos is believed to have been shot and killed by law enforcement, Abbott said.
CISD Superintendent Hal Harrell said that the school district would provide grief counseling and other support beginning at 10 a.m. Wednesday at the city's civic center. The district's schools have been closed for the year, he said, and all school activities have been postponed.
"This was a tragic and senseless event," he said. "My heart was broke today."
Uvalde is a small town about 80 miles from San Antonio. Nearly 75 percent of its population is Hispanic. Robb Elementary has about 600 students, all 2nd, 3rd, and 4th graders.
For the latest true crime and justice news, subscribe to the 'Crime Stories with Nancy Grace' podcast.
[Featured image: People react outside the Civic Center in Uvalde, Texas on May 24, 2022. (AP Photo/Dario Lopez-Mills)]