A woman climbed through a vehicle's sunroof to rescue a pair of toddlers who were left inside on a steamy summer day, KOKH-TV reports.
A security guard working for an Oklahoma City Walmart on August 14 reported that the vehicle was hot to the touch and that she had burned her hand in attempting to enter the vehicle, which was parked in direct sunlight while it was 98 degrees outside.
Charlene Cooksey was among the shoppers who tried to rescue the children.
"I went into mom mode," Cooksey told KOCO-TV, describing how she felt when she first learned of the girls in the locked vehicle.
Cooksey said she and her husband wanted to break a window using a crowbar, but store security officers were hesitant.
"Security guards didn't know what to do because in their minds, they wanted to wait for the fire department and I was like, 'screw the fire department, those babies need to get out,'" Cooksey told KOCO-TV.
At some point, a woman who has not been identified made her way into the vehicle through an open sunroof, where she found the girls buckled in their car seats and unresponsive.
When they were taken out of the vehicle and put into a security car with air conditioning, the girls appeared to be in shock and were reportedly crying out for their mother, according to KOCO-TV.
The store had made announcements asking the driver of the vehicle to come outside, but the mother did not leave the store until she checked out.
Authorities identified the woman as 33-year-old Elizabeta Babb. She reportedly claimed to have been in the store for "five minutes," but security cameras indicate she was in the building for about 35 minutes.
The footage reportedly shows Babb and a young child entering the store around 2:22 p.m. and then exiting the building six minutes later. But Babb then quickly walks back into the store alone, according to KOKH-TV. It is not clear what happened to the child who had accompanied her earlier.
Police responded to the scene around 3 p.m. and arrested Babb on two counts of child neglect. She was booked into the Oklahoma County Jail.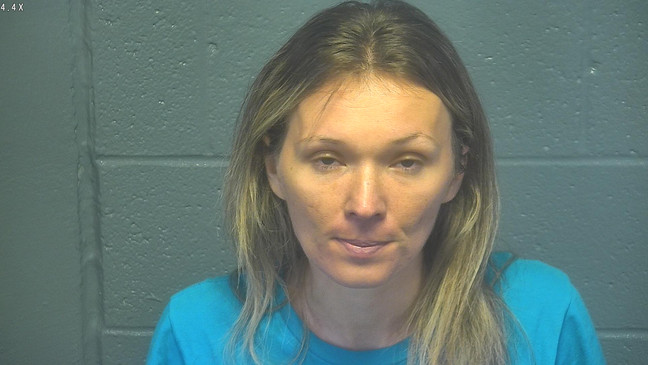 The children were reportedly released to their grandmother because their father was out of town.
Cooksey said she understands it's hard being a mom, but that children should never be left alone in a hot car. She also praised the woman who rushed in through the sunroof.
"If it wasn't for her, we'd still be trying to pull those car doors open. She's the real hero 'cause she jumped in," Cooksey told KOCO-TV.
For the latest true crime and justice news, subscribe to the 'Crime Stories with Nancy Grace' podcast.
Featured Image: AP Photo/Jae C. Hong, File