A Massachusetts woman allegedly shot to death her father, brother-in-law, and his father before killing her self this week and left a chilling Facebook post blaming domestic abuse for her actions.
Khosay Sharifi, 31, wrote in the post that her brother-in-law physically abused her sister for 14 years and that both sets of parents were aware of the abuse "but have not really done much but say 'work it out' 'what will people say if you separate' or even victim blaming."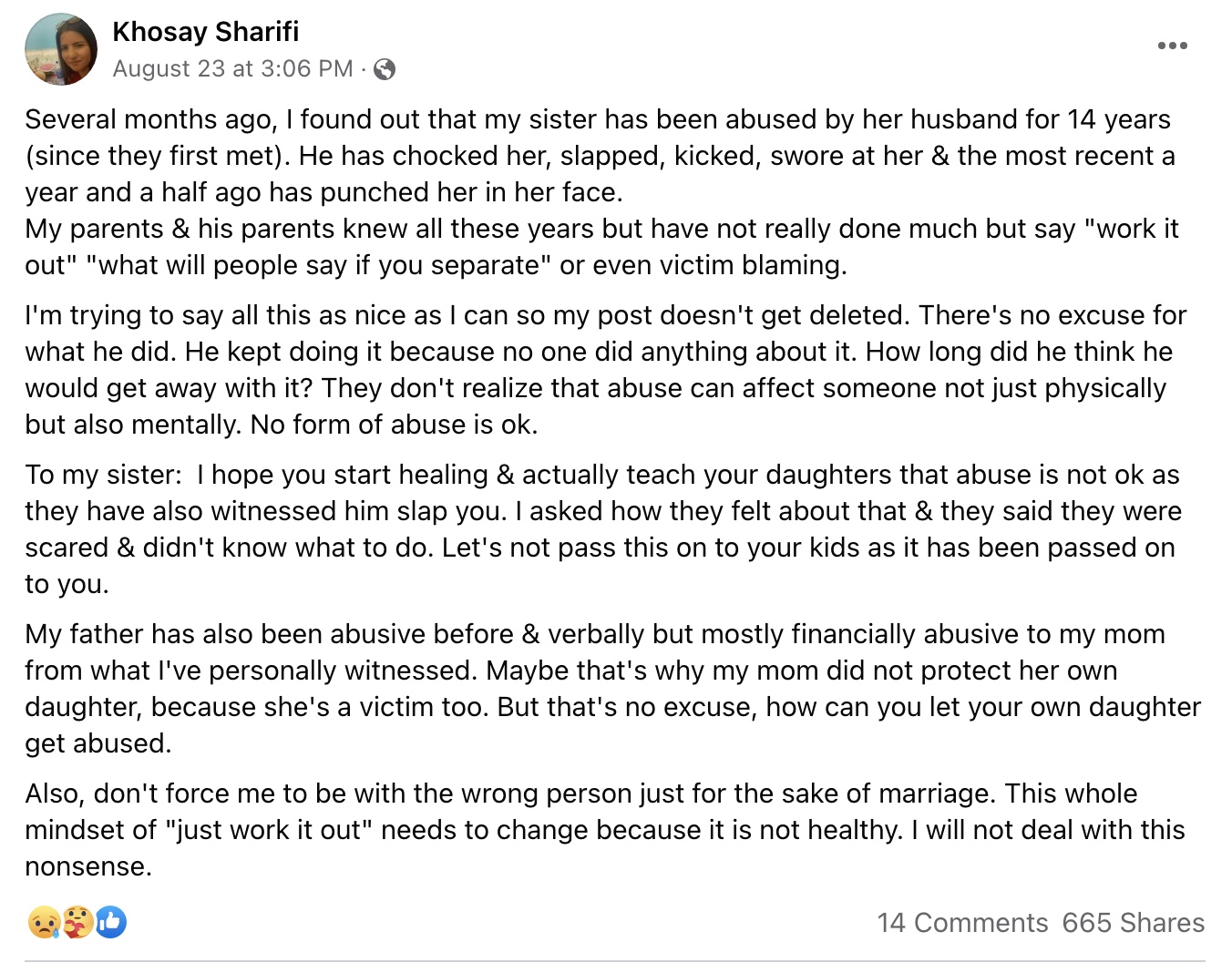 Essex District Attorney Jonathan Blodgett said that Lynn police responded to an address just before 3 p.m. to investigate a report of shots fired, WCVB reported. There, they found the bodies of 66-year-old Mohamad Sharifi and 34-year-old Sanjar Halin.
An hour and a half later, they found Sharifi's body in her vehicle in the parking lot of a convenience store a half mile from the home where the first two victims were found. Later, Blodgett said, detectives found the body of the Halin's 56-year-old father, Abdul Halin, in a vehicle parked outside another address not far from either of the other two shooting scenes.
Blodgett would not comment on a motive.
"We don't speculate about the motive, as we're pursuing this investigation. We have three crime scenes that we're dealing with right now. We'll hopefully come to what we can use as evidence, but again, we don't have a motive yet. What I can say, which we didn't know until today, is that they are family members," Blodgett said.
Sharifi — who posted on Facebook 10 minutes after police were called to the first crime scene — appeared clear on her motivations, however.
"Several months ago, I found out that my sister has been abused by her husband for 14 years (since they first met)," she wrote. "He has chocked [sic] her, slapped, kicked, swore at her & the most recent a year and a half ago has punched her in her face."
Sharifi wrote that her brother-in-law got away with the abuse "because no one did anything about it," and she said she hopes her sister can "start healing & actually teach your daughters that abuse is not ok."
Sharifi also wrote that her father had also been physically, verbally, and financially abusive to her mother, and that she would not be marrying "the wrong person just for the sake of marriage."
"This whole mindset of 'just work it out' needs to change because it is not healthy," she wrote. "I will not deal with this nonsense."
A relative of the family set up a GoFundMe to help Sharifi's sister raise her two young daughters.
"Time and time again, mental health is demonstrated to be such a prominent issue in society," the family member wrote. "Abuse of all types takes a significant toll on individuals affected, and leads to damage and loss in many ways."
For the latest true crime and justice news, subscribe to the 'Crime Stories with Nancy Grace' podcast.
[Featured image: Khosay Sharifi/Facebook]