An Arizona constable was killed Thursday while serving an eviction notice in a shooting that also left dead the gunman, his neighbor, and the manager of his apartment complex.
Authorities said the incident happened just after 11 a.m. when Pima County Constable Deborah Martinez-Garibay and Lind Commons Apartments manager Angela Fox-Heath went to serve an eviction notice on Gavin Lee Stansell.
Police said Stansell opened fire on the two women. Officers who responded to the scene found Fox-Heath, 28, dead in a courtyard and fatally wounded Martinez-Garibay, 43, inside Stansell's apartment, the Associated Press said.
Stansell, 24, was also dead, from an apparently self-inflicted gunshot wound.
As investigators checked out the scene, they found that Stansell at some point had entered the apartment next door and shot to death Elijah Miranda, 25.
Tucson police spokesman Sgt. Richard Gradillas said there were no witnesses and he didn't believe the constable was wearing a body camera.
Martinez-Garibay began working as a constable earlier this year when her predecessor quit in frustration about serving eviction notices.
"When a force for good can so easily be a force of pain and destruction, we should examine how this archaic position can better fit the needs of a changing community," former Constable Kristen Randall said in her February 13 resignation letter.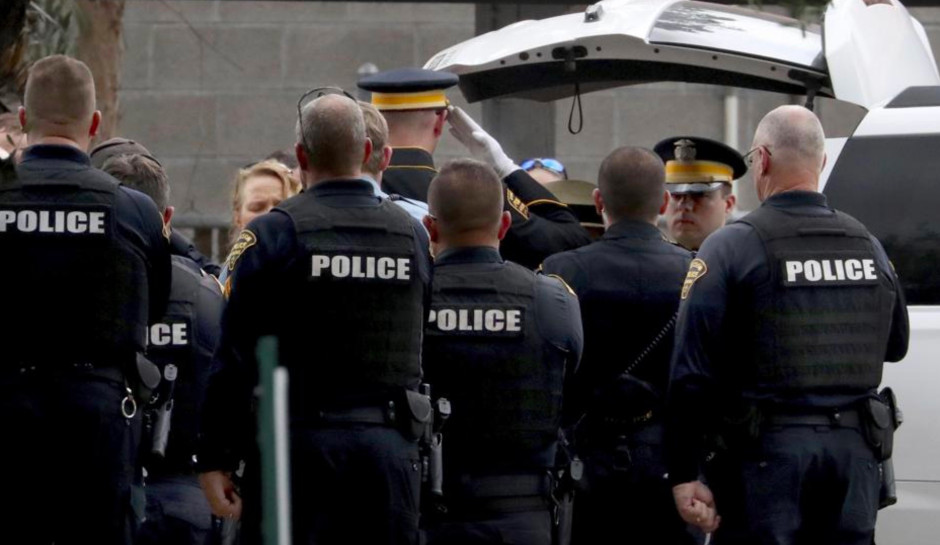 "We all know that the job of an Arizona constable comes with risk, but we go about our business with caution and professionalism and treat all with whom we come in contact with respect and dignity," the constable's office said in a statement after Martinez-Garibay's death.
Martinez-Garibay's husband, Gabriel Garibay, said the entire situation was "just unreal."
"I'm still trying to put it together," he said. "It seems like it's unreal, I'm still thinking that it's a joke somewhere, but it's just a way to describe it. I don't know how to explain it."
Investigators have released few details. An eviction complain against Stansell was filed in court on August 15, and it indicated that Stansell or a guest had intimidated neighbors with a gun in late July. Records say he failed to show at a hearing in the case set for Monday, and a judge ruled that he had breached his lease agreement.
"The evidence shows that defendant threatened another resident with a firearm and has otherwise disturbed the peace," the judge wrote.
Martinez-Garibay was a U.S. Army veteran who served multiple tours in Afghanistan, retiring after 16 years in the service.
For the latest true crime and justice news, subscribe to the 'Crime Stories with Nancy Grace' podcast.
[Featured image: Deborah Martinez-Garibay/Pima County]