A former attorney for North Dakota's attorney general has been jailed for allegedly beating his ex-wife to death in front of three of their young children.
Anders Odegaard, 31, was charged Thursday with second degree murder in the death of Carissa Odegaard on Tuesday.
A criminal complaint filed in Marshall County, Minnesota, said that 31-year-old Carissa Odegaard was flown to Sanford Hospital in Fargo, North Dakota, where she died from her injuries, KFGO reported.
According to the complaint, the couple had been divorced for about two years, and their children ranged in age from 2 to 9-years-old, KARE said.
The incident began when the children's mother arrived at the father's house to take the kids to church and he refused to let her take them, Fox News reported.
The two oldest children, 9- and 8-years old, along with the youngest, a toddler, were inside the home. Two more children were already in their mother's car.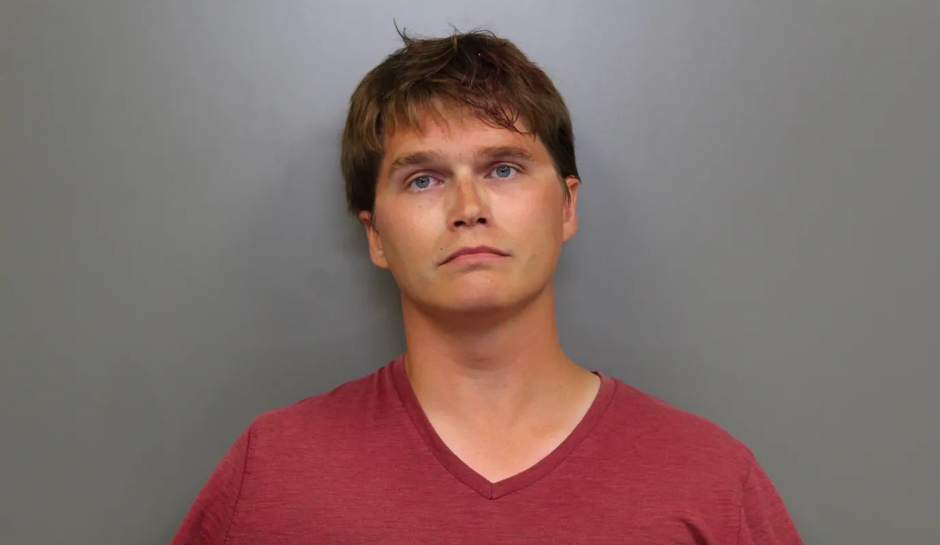 The children told investigators that their parents got into a "big fight," the complaint says, and that their father tackled their mother to the ground and "started choking her," according to KARE. Carissa Odegaard, who was holding her 2-year-old son at the time, shouted for the kids to "call 911."
The two oldest children ran outside and flagged down a passerby, pleading with them to call 911 because "their mom was bleeding really bad and needed help," the complaint said.
A deputy who responded to the home found Anders Odegaard wearing only his underwear with "blood in his hair," according to Fox His ex-wife was lying in a doorway with blood pooling around her head. The deputy asked Odegaard to explain what was happening.
"I don't feel right," he said.
The 9-year-old boy told investigators he thought his father hit his mother with a spatula or a knife.
The 2-year-old boy who had been in his mother's arms when the father attacked was unable to answer questions because of the trauma, Fox said.
One of the children told investigators he has seen his father hit his mother on other occasions.
"Both the kids that saw the assault take place said they saw their father on top of their mother hitting her or choking her," the complaint says, KARE reported.
According to KFGO, Anders Odegaard is licensed to practice law in North Dakota and worked for Attorney General Wayne Stenehjem from April 2018 to 2019 before he was terminated for cause. He then worked in the state's Insurance Department until resigning in May 2020.
Fox reported that Odegaard worked for the Mercer County State's Attorney in North Dakota for three months before he was fired. Then he worked as a public defender in Stark County, North Dakota, for another three months before he was again fired. He briefly tried private practice before moving to Minnesota.
The Odegaards married in May 2011, and their divorce was finalized in September 2021, on the grounds that the marriage was "irretrievably broken," Fox said. The court granted the parents shared legal custody, but Carissa Odegaard, a photographer was granted physical custody. The couple was due in the court in a few days for a review of the terms.
For the latest true crime and justice news, subscribe to the 'Crime Stories with Nancy Grace' podcast.
[Featured image: Carissa Odegaard/Facebook]