Unlike her best friend's father, Madison Mogen's dad has complete confidence that investigators will solve the murders of his daughter and her friends in an off-campus rental house at the University of Idaho last month.
Mogen, her best friend Kaylee Goncalves and roommate Xana Kernodle, along with Kernolde's boyfriend Ethan Chapin, were stabbed to death early in the morning of November 13. Investigators have not named a suspect, which has frustrated some people, particularly Steve Goncalves, who hired a private investigator while calling local cops "cowards"  and "inexperienced" for not releasing all the information they have in the investigation, as CrimeOnline previously reported.
Goncalves has been a driver of some conspiracy theories about the murders, something Ben Mogen says he avoids with daily conversations with investigators.
"It's hard for me to read all of these articles," he told the Idaho Spokesman-Review. "I can get all my news about it right from there (investigators), and I don't have to try and drudge through all this misinformation."
"I just have to take the higher road on that kind of stuff or else it will be damaging to my well-being; I mean, it's hard enough as it is," Mogen said. "I'm just trying to get through these days one at a time."
One investigator makes those daily phone calls, Mogen said, and will even call family members if they don't connect for a few days.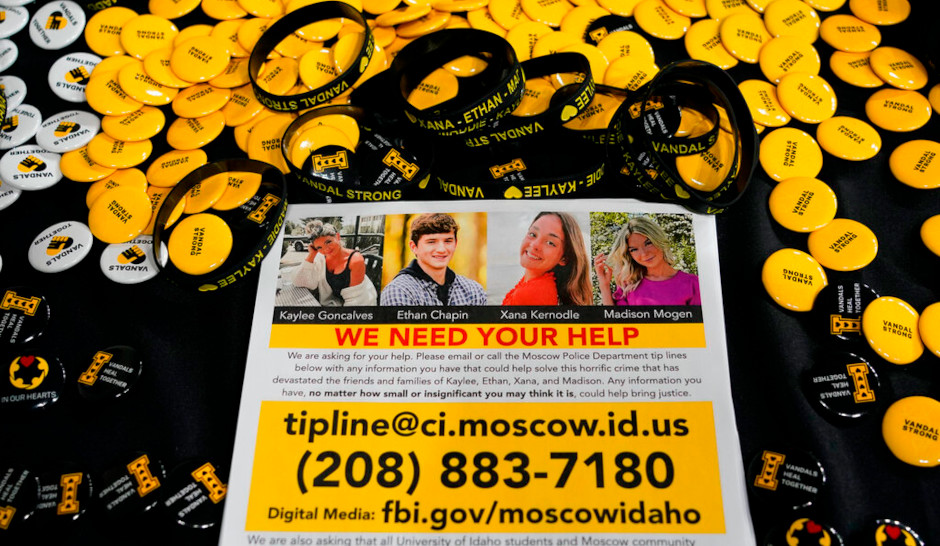 Mogen told the newspaper that he was out to a movie on November 13 when Madison's mother, Karen Laramie, called. He texted that he'd call back shortly, but then his mother called. "Just come over," she said.
As he drove to his mother's, he called Laramie and learned the terrible news.
"We didn't even know what to say to each other, we just both were sobbing," he said. "We just cried together on the phone, I guess. There's just no words for any of that."
Mogen and Laramie divorced when Madison was young but maintained a strong friendship.
Mogen says there are  "so many questions that I figured would be answered, but we're still waiting."
He's comforted by his conviction that the killer will be caught.
"From the very beginning, I've known that people don't get away with these things these days," Mogen said. "There's too many things that you can get caught up on, like DNA and videos everywhere. This isn't something that people get away with, that goes unsolved."
"I have to just know that they know what they're doing, and if they don't, then they know someone that does," he said.
That, and memories of his daughter.
"I am so proud to be able to say that she was my daughter and what she was doing with her life and where she was headed," Mogen said. "She was living the life that she deserved."
For the latest true crime and justice news, subscribe to the 'Crime Stories with Nancy Grace' podcast.
[Featured image: Ben Mogen, left, and Madison Mogen/Ben Mogen]