In posts since removed from Reddit, an account allegedly belonging to University of Idaho murder suspect Bryan Christopher Kohberger solicited criminals to discuss their "thoughts and feelings" for a research study.
Kohberger, 28, has a masters degree in criminology from DeSales University in Pennsylvania and was a PhD candidate in justice and criminology at Washington State University, less than 10 miles from the University of Idaho campus where the murders of four students took place nearly two months ago.
The posts appear to come from a research project in which Kohberger was engaged while at DeSales. The posts provide links to a now non-active survey at the university and Kohberger's DeSales email address.
According to Mediaite, the posts on several subreddits asked for participation "in a research project that seeks to understand how emotions and psychological traits influence decision-making when committing a crime."
"In particular, this study seeks to understand the story behind your most recent criminal offense, with an emphasis on your thoughts and feelings throughout your experience. In the event that your most recent offense was not one that led to a conviction, you may still participate," the posts said, according to Mediaite. Additional surveys are included after the open-ended section as to best understand your unique traits. The study should take about 15-20 minutes to fully complete."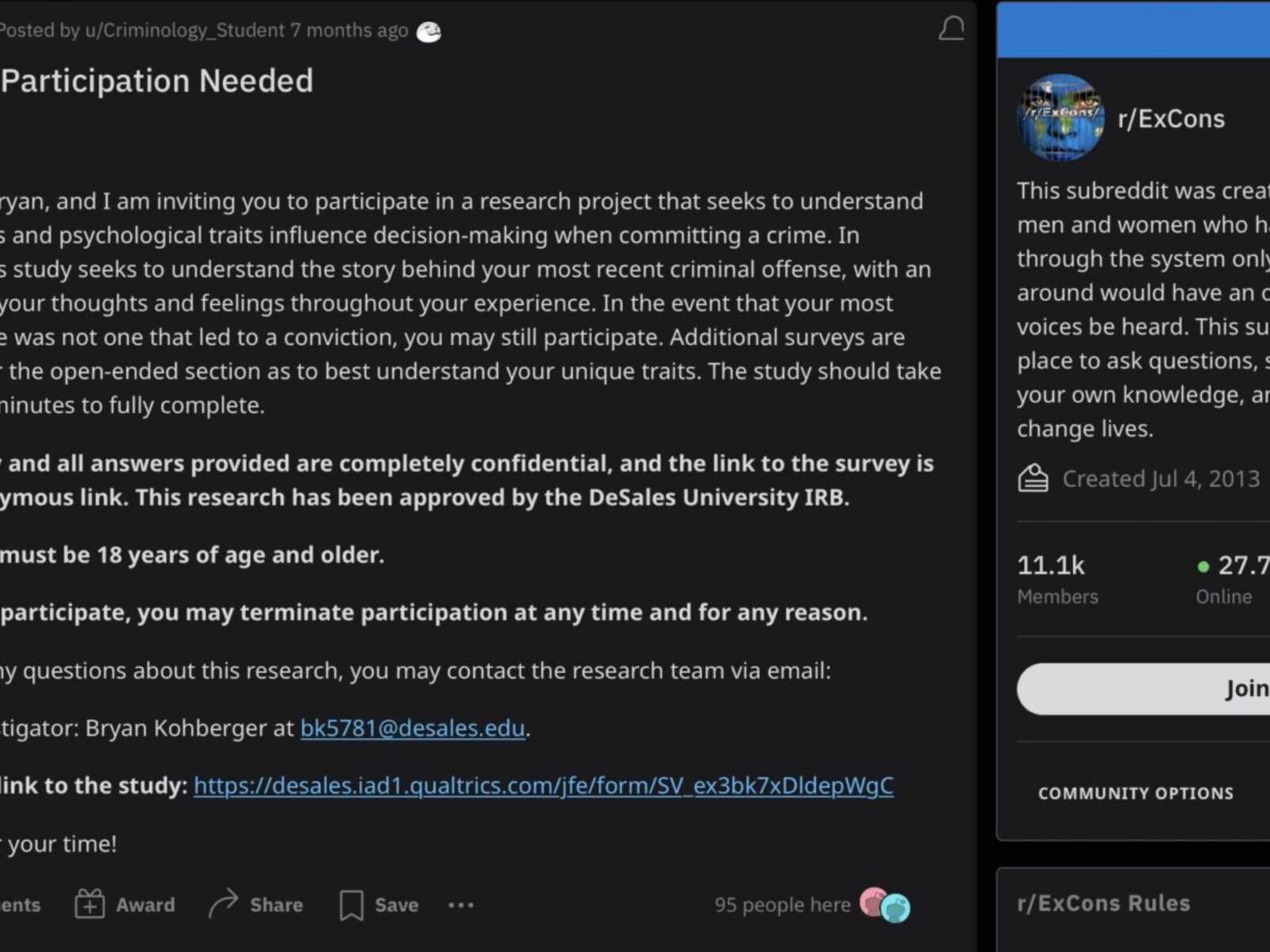 The posts said that all responses were anonymous and that respondents could withdraw at any time.
Reddit has removed the posts and suspended the account.
As CrimeOnline has reported, students Kaylee Goncalves, Madison Mogen, Xana Kernodle, and Ethan Chapin were stabbed to death in the early hours of November 13 at an off-campus rental home where the three women lived with two other roommates. Those two roommates, who lived in the bottom floor of a three-story house, were not injured and slept through the attacks on their roommates and Chapin, Kernodle's bodyfriend.
Kohberger was arrested Friday morning at his parents home in Pennsylvania's Poconos region, where he allegedly fled in a white Hyundai Elantra after the slayings, according to WPVI. Investigators had been looking for such a car after one was spotted near the scene of the crime the night of the murders, and a white Elantra was towed from the home where Kohberger was arrested.
Sources told WPVI that DNA from the crime scene helped identify Kohberger as a suspect, but authorities in Idaho answered few questions about how the investigation led to him. Instead, they cited Idaho law that sealed the arrest affidavit until he is "physically back in Latah County" and has been officially charged there, Latah County Prosecutor Bill Thompson said at a Friday news conference.
How long that will be depends upon whether Kohberger waives extradition and returns voluntarily to Idaho or prosecutors have to initiate extradition proceedings through the governor's office, which would take significantly longer.
He is due back in court on Pennsylvania on Tuesday, Idaho officials said.
For the latest true crime and justice news, subscribe to the 'Crime Stories with Nancy Grace' podcast.
[Featured image: Bryan Kohberger/Monroe County Jail]