A Florida nursing assistant has been charged with aggravated abuse and neglect of an elderly person after she allegedly posted a photo showing her abusing a dementia patient for social media likes.
Gabriel Woods was arrested on Wednesday and released on a $2,000 bond. On Thursday, she posted a link to an article about her arrest with a devil and two laughing emojis.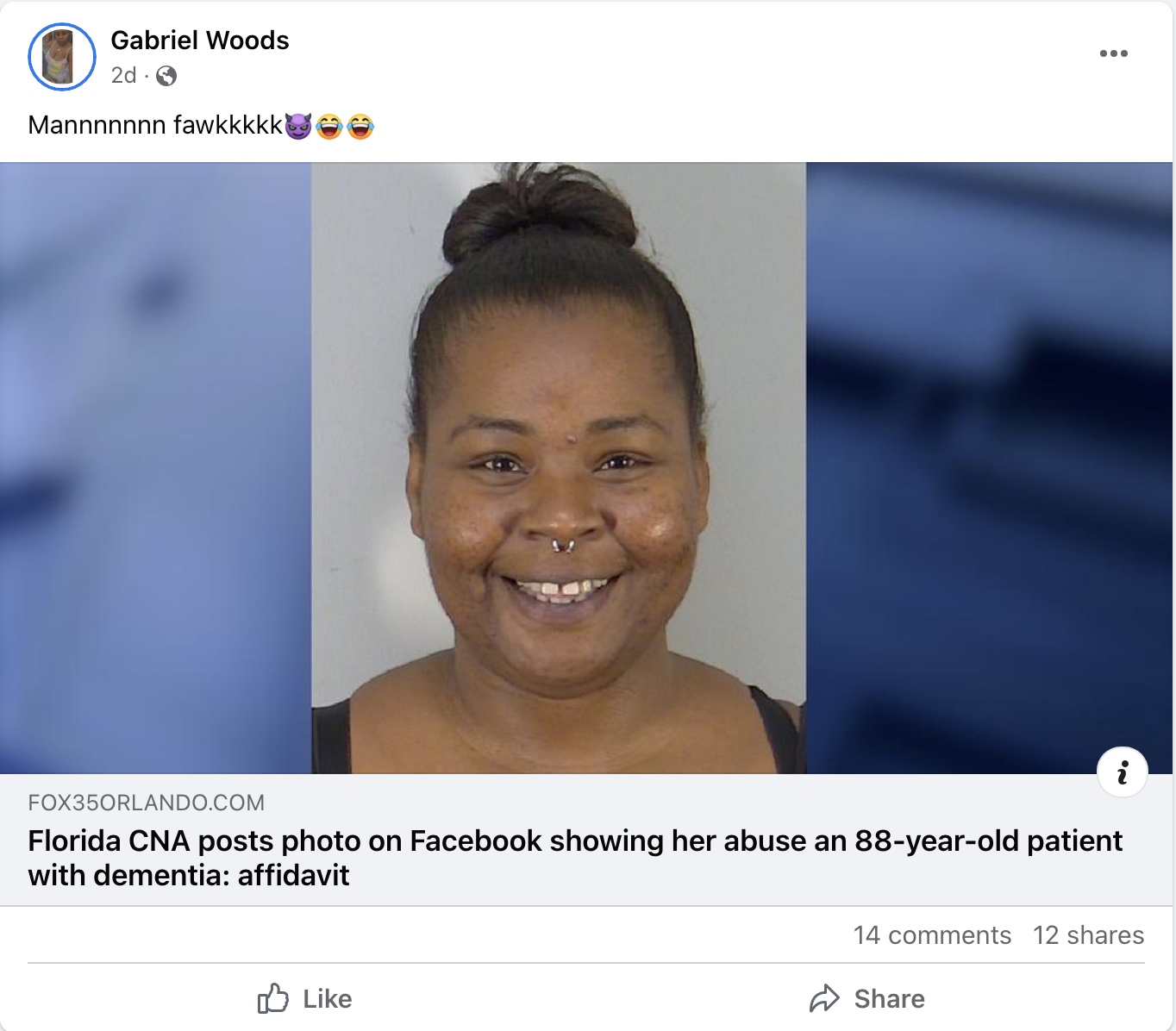 An affidavit of probable cause said the Mount Dora facility learned of the abuse after it anonymously received a photo showing an arm, believed to be Woods's, grabbing and twisting the 88-year-old patient's lips, making them appear white, WOFL reported. The caption said, "Twisting my Resident Lip Because Uon S*** Before Shift Change," according to the affidavit.
Detectives met her when she arrived for work on Wednesday and reported admitted she was the worker in the photo, which she said was taken on Monday. Police said she posted the photo on social media "because of a trend on social to gain likes," the affidavit said.
The photo has since been removed from Woods' Facebook page.
Police also noted a video posted to Woods' TikTok page in which she is dancing to a song in what looks like a facility bathroom, Law & Crime reported. The video's caption reads, "Nurse: The resident fell out of bed. Me: but this song hit I'll pick her up in a min."
According to the affidavit, Woods admitted making the video as well but said the caption was fake and that no patient was "waiting for assistance after falling."
As for the photo, Woods told detectives she did not touch the patient's mouth "forcefully."
"This is contradicted by the white area around [the victim's] mouth which is indicative of force being applied to the area," the affidavit says. "Woods confirmed that during the photograph there was no legitimate reason to touch [the patient's] mouth other than making the social media post. This showed the touch was unnecessary, unwanted, and likely caused [the patient] pain and fear."
For the latest true crime and justice news, subscribe to the 'Crime Stories with Nancy Grace' podcast.
[Featured image: Gabriel Woods/Lake County Jail]