It was the evening of November 27, 2017, and Jasper County police responded to a Carl Junction home following reports of an unresponsive child. There, officers would find 3-year-old Jayda Kyle, bleeding and lifelessly lying in her bedroom. She would die from her injuries three days later.
Fast forward to present day and the mother's live-in boyfriend, Jalen Vaden, 22, is facing second-degree murder charges in connection with the little girl's death. But with a bond hearing quickly approaching, many in the tight-knit community are calling for "Justice for Jayda." But it's not the call for justice that's typical for cases of this nature–it's also a rallying cry for the man sitting behind bars.
According to a probable cause statement, an autopsy determined that Kyle suffered "several head injuries consistent with child abuse." The toddler was rushed to Mercy Hospital before being airlifted to Children's Mercy Hospital in Kansas City, where doctors determined she suffered from "abusive head trauma," police said.
Jasper County police also wrote that Vaden confessed on December 6 to brutally beating the toddler girl because she wouldn't put on her pajamas.
READ More: Man severely beats 3-year-old who clings to life for three days before dying from injuries: Cops
"Vaden returned and observed Juvenile not dressed as he instructed. Vaden again picked Juvenile up throwing her on to the bed. Vaden then grabbed Juvenile's leg, 'tossing' her 'face first' onto the floor," police alleged.
"Vaden exited the room returning a short time later to find Juvenile bleeding and unresponsive."
News surrounding Kyle's death grabbed national headlines. However, recent allegations levied by Jalen's family call reported accounts into question.
Jalen's sister, Quianna Vaden, told CrimeOnline that Jayda's mother, Devyn Kyle, had a history of taking to social media about her daughter's injuries. Days before the fatal incident, Devyn apparently posted to a Facebook group that Jayda was dealing with unexplained head and neck pain.
"The neck complaint Jayda had was within the week the incident occurred. Devyn was constantly smacking her in her head and pushing her down," Quianna recalled, adding that Jalen would be at work when the alleged abuse would occur.
"Jayda was screaming it hurt and Devyn told her to 'shut up.'"
Weeks earlier, Devyn allegedly posted in the same Facebook group about a mysterious elbow injury that Jayda had suffered. In the post, she also mentions how Jayda had a "super swollen hip" two months earlier.
"Between that and lots of random fevers and complaining about pain all over her body, we're being referred to a physical therapist," Devyn supposedly wrote. "Say some prayers for our sweet girl. Major stressing and ready for answers."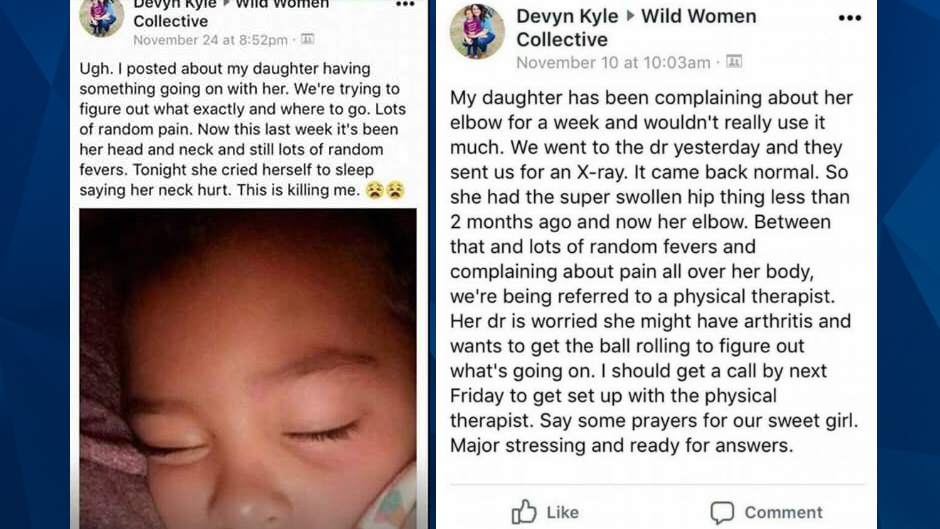 In a series of texts messages and social media posts provided to CrimeOnline, Devyn also allegedly told friends and family members that the little girl was fighting for her life and that she didn't hear anything on the night in question.
However, the slain girl's father, Mack Kyle, called attention to Devyn's online behavior in a motion to modify custody filed in late December. In it, Mack accused Devyn of creating the "Prayers for Jayda" Facebook group and collecting donations knowing that the toddler was deemed brain dead early on.
Mack claimed that Devyn "led the public to believe that the child had been 'found non-responsive on the floor in her bedroom' and it was a possible aneurysm" even though she and her family were informed that Jayda was brain dead due to suffering abusive head trauma, according to court documents.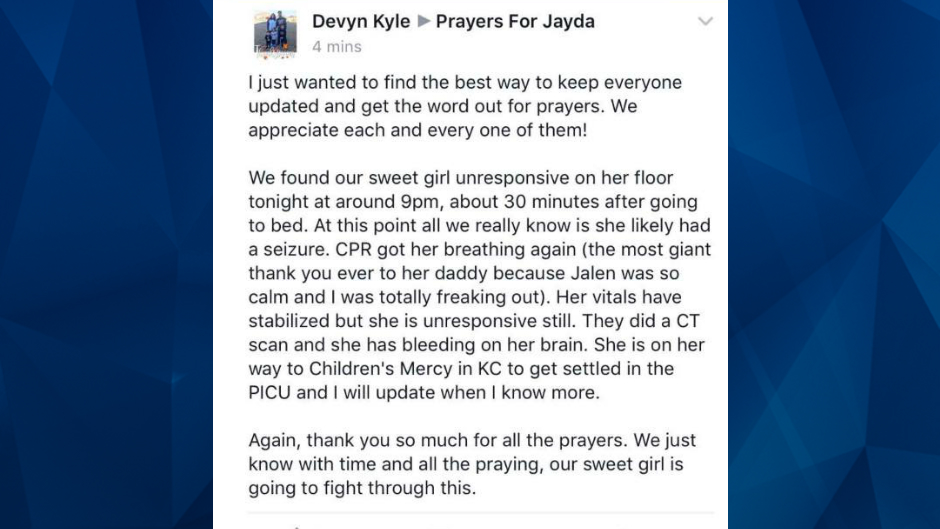 A report from early January also revealed that that the pair's 5-year-old son will remain in the care of the Children's Division and his paternal aunt. During a family court hearing, a judge also ordered the parents to undergo psychological and medical evaluations. It is unclear why Devyn hasn't regained custody as reports indicated that local police have closed Jayda's murder investigation.
Meanwhile, defense attorney Tracey Martin held a press conference Tuesday afternoon that included demands from local leaders and activists for a thorough, unbiased investigation. Annette Reeves, vice president of the local NAACP chapter, said they got involved at the request of Vaden's family.
Despite her client's confession, Martin said she's committed as ever to uncovering the truth.
"It is unfortunate that because of the close relationships, there are many concerns about the investigation in this case. To properly defend Jalen and find the truth he needs independent experts and investigators outside of the area, with no local relationships to review the facts and evidence in this case," she commented.
Speaking after the defense attorney was Nanda Nunnelly, an activist with the Joplin Black Lives Matter chapter who accused police of failing to secure the crime scene. She later revealed that Vaden has claimed that his confession was "coerced" as he asked for–and was denied–representation.
Echoing Martin's point, Nunnelly went on to urge the community to collect funds so that independent experts and investigators can be brought in to investigate Jayda's death.
She said, "This young man deserves a fair trial and we, as members of this community, are here to make sure that he gets it."
[Featured Image: Devyn Kyle/Facebook]