The stepmother of missing 11-year-old Colorado boy, Gannon Stauch, was arrested Monday morning on suspicion of first-degree murder and several related charges.
Prior to her arrest, CrimeOnline spoke to Leticia "Tecia" Stauch as part of our investigation into Gannon's disappearance.
Stauch claimed Gannon left by foot from their Lorson Ranch neighborhood for a friend's house at some point between 3 p.m. and 4 p.m. on January 27. He never returned home, and today's arrest indicates investigators do not believe he will be found alive.
Crime Scene 
Within days of Gannon's disappearance, an El Paso County Crime Scene team arrived at his home to collect evidence. They returned several times and were spotted removing items from the residence and carrying items inside.
Stauch said she didn't understand how authorities could call the home a crime scene after they saw Gannon leaving with her on January 27.
"How the hell is the house a crime scene if he left and didn't come back with me supposedly? They are saying there is a crime scene with all this blood in the house, which they let people live in during the supposed crime scene for 7 plus days….but then a video shows him leaving with me walking." 
Stauch was referring to security footage captured by a neighbor, which reportedly showed her leaving at around 10:18 a.m. on January 27 with Gannon, and returning home a little after 2 p.m. without him.
Stauch claimed her husband told her about blood found in the home. She denied hurting Gannon and claimed that he would get repetitive nosebleeds that required frequent cleanups.
Stauch said Gannon also cut his foot in the garage a few days before he vanished. 
"There are tools, wood, and woodworking in the garage, jointers and saws. If there was blood in the garage, it was from doing activities," Stauch said. 
Al Stauch allegedly called his wife and asked her why a "saucer-sized puddle of blood" was found inside Gannon's room, according to what Tecia Stauch told CrimeOnline.  
"He was taken around and shown different places of blood inside the house. There was some in the garage. But there are accidents all the time, nose bleeds. Gannon walked around sometimes with blood on his arm from nose bleeds."
Bloody Board and Sock
Stauch added that her husband told her that Gannon's sock and a bloody 2×4 board were found in the woods near Douglas County. 
Stauch explained that her family frequently loaded up boards they didn't need from their garage into the pickup truck, leftovers from her husband's woodworking hobby. She claimed that there had been several accidents in the garage, which could have easily accounted for a bloodied board. 
When asked how the board would have ended up in the woods, Stauch said that things have flown out of the back of the truck before while she was driving. She said the same thing could have happened to the board or Gannon's sock.
When questioned whether law enforcement specifically told her about the wood or a sock, Stauch said, "LE [law enforcement] have not said one word to me, have not called me."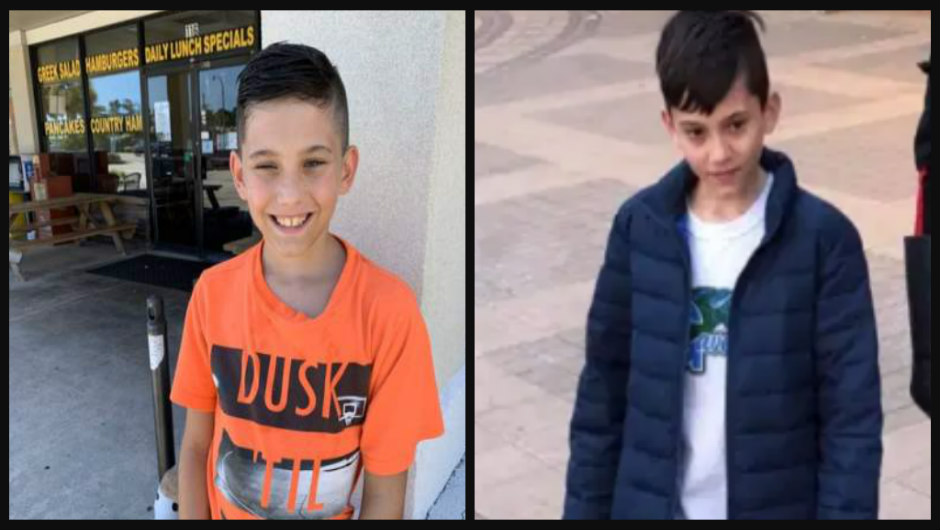 The El Paso County Sheriff's Office has not confirmed the accuracy of Stauch's statements. They indicated during Monday's press conference they would not be releasing any additional details around the investigation at this time.
CrimeOnline reached out to Albert Stauch for clarification on Tecia Stauch's statements, but we've been unsuccessful in reaching him.
Arrest
According to the El Paso County Sheriff's Office, Tecia Stauch was arrested in Myrtle Beach, South Carolina. Stauch previously told CrimeOnline she left for South Carolina after getting death threats in Colorado Springs, where Gannon vanished from on January 27.
During a Monday afternoon press conference, El Paso SO said that Stauch is facing several felony charges, including,
Murder in the First-Degree (Child Under Twelve-Position of Trust §18-3-102(1)(f))
Child Abuse Resulting in Death §18-6-401(1)(a), (7)(A)(I)
Tampering with a Deceased Human Body, §18-8-610.5
Tampering with Physical Evidence, §18-8-610(1)(a)
Stauch is being held without bond in Myrtle Beach, awaiting extradition to Colorado Springs.
The story continues to develop. Check back with CrimeOnline as additional details become available.
PART ONE: Tecia Stauch Interview
PART TWO: Tecia Stauch Interview
CLICK HERE to see all of our coverage on Gannon Stauch
Check back for updates.
For the latest true crime and justice news, subscribe to the 'Crime Stories with Nancy Grace' podcast. 
Join Nancy Grace for her new online video series designed to help you protect what you love most – your children.
[Feature Photo: Gannon Stauch/Handout