Authorities searching for a British woman in the U.S. Virgin Islands who was reported missing by her American boyfriend have encountered another speed bump in their investigation, The Daily Mirror reports.
Sarm Heslop, 41, disappeared March 7 after dining out with her boyfriend, Ryan Bane, 44, and possibly returning to his nearly $600,000 yacht–though authorities have not yet been able to confirm where Heslop went after dinner.
Security cameras at the 420 to Center bar in Cruz Bay where the couple ate and drank were not working at the time because of a power outage several days earlier, according to a new report by The Daily Mirror.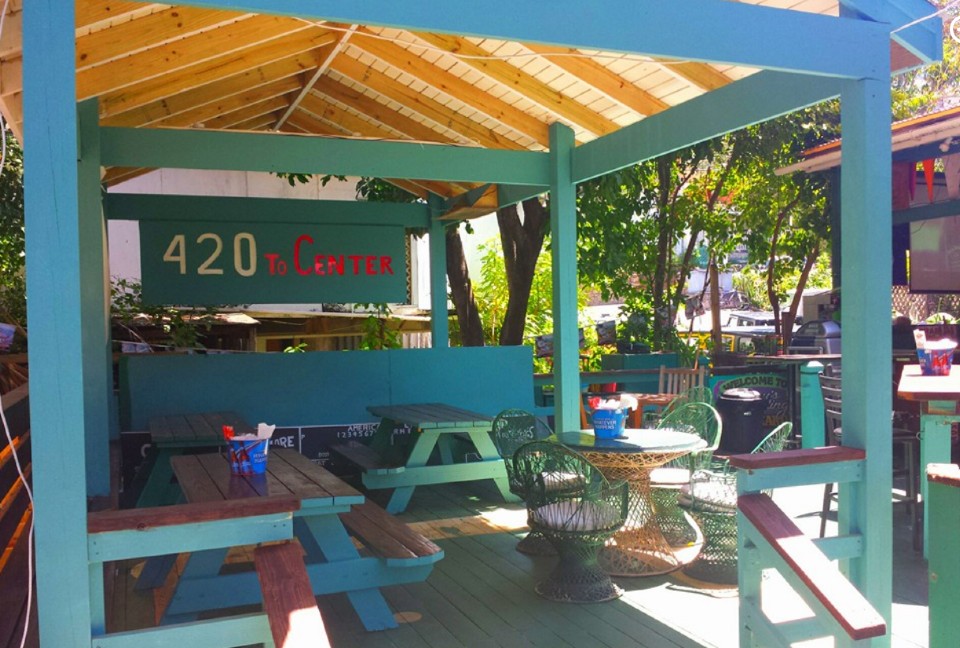 The lack of video evidence means Heslop's last known movements were not recorded before Bane reported her missing the following day, March 8.
The development amounts to another obstacle impeding the search for Heslop, given that Bane is not cooperating with investigators.
Ryan Sharkey, who owns the bar where the couple dined, told the newspaper that the security cameras were "blown out a few days before by an electrical outage."
"I've only just got it replaced. We just don't have footage of them. Police were disappointed when I told them," Sharkey told The Daily Mirror.
But Sharkey said nothing stood out to him about what he remembered of the couple.
"She and Ryan were at the edge of the bar, no arguing, no trouble, not that we know about,' Sharkey told The Daily Mirror. "They were talking, that was it. It was about 6 p.m. or 7 p.m. when they came in. I think he had three beers and Sarm no more than two. They were here for about an hour-and-a-half."
Friends of Heslop, a former flight attendant, are concerned about her well-being and fear that she might have been kidnapped, according to The Daily Mirror.
Another business owner in the area, who runs the Connections Cyber Cafe, told the newspaper that Bane stopped by after he reported Heslop missing and picked up a large package. Bane reportedly maintains a post office box there.
The business owner told The Daily Mirror: "After Sarm went missing, we were shocked when we checked our records and saw Ryan's name and the name of the boat and realized he has a P.O. Box with us."
The owner said she doesn't know what was in the parcel or where it came from.
"We fear the worst for her, now it's been more than a month since she disappeared," the business owner told The Daily Mirror. "It's so strange that there's just no sign of her, no clothing that's washed up or been found, just nothing.
"We all really feel for her family and friends. It is just so awful for them."
Bane has been convicted of assaulting his ex-wife, Corie Stevenson, and she has previously said that Bane had anger problems and was abusive during their marriage, according to Fox News.
Stevenson told Fox News that her former husband would regularly lose his temper with their young daughter.
Stevenson also discussed Bane's consumption of alcohol and pills.
"When we had alcohol in the house, he would drink it until it was gone," Stevenson told the news outlet. "Pills the same way."
The U.S. Coast Guard cited Bane with obstruction after he refused to let officers inside his boat after Heslop went missing, The Daily Mirror reports. The citation is not a criminal charge.
After Coast Guard officers boarded Bane's boat anyway, he reportedly stood in a doorway and would not allow them to enter, according to The Daily Mirror.
Police remain unable to search Bane's boat or interview him, the newspaper reports.
Toby Derima, a police spokesperson, told The Daily Mirror that Bane was still in the U.S. Virgin Islands, but that his precise location could not be revealed.
"He is still not co-operating," Derima told the newspaper. "There has been no change."
A relative of Heslop has told The Daily Mirror that Bane has not reached out to her family.
"He's not been in touch," the relative told the newspaper. "It's awful."
For the latest true crime and justice news, subscribe to the 'Crime Stories with Nancy Grace' podcast. Listen to the latest episode: