An Ohio woman admitted in court Friday that she helped plan the 2016 murders of a family of eight — including the mother of her own granddaughter.
Angela Wagner, her husband George "Billy" Wagner III, and her two sons — Edward "Jake" Wagner and George Wagner IV — were accused in 2018 of planned and carrying out the murders of Jake Wagner's former girlfriend, Hanna May Rhoden, and seven members of her extended family.
Jake Wagner, who had a toddler daughter with Hanna Rhoden, pleaded in April to all eight murders and 15 other charges, as CrimeOnline previously reported. In return for his guilty plea, prosecutors agreed not to seek the death penalty. Wagner also agreed to cooperative with authorities in their cases against his mother, father, and brother.
His mother pleaded guilty to conspiracy, aggravated burglary, tampering with evidence, forgery, unauthorized use of property, and unlawful possession of dangerous ordnance, the Dayton Daily News reported. In exchange, prosecutors dropped eight charges of aggravated murder and recommended 30 years in prison with no early release.
Prosecutors alleged that the slayings were motivated by a custody dispute between Jake Wagner and Hanna Rhoden. The Wagners were allegedly trying to force Rhoden to sign an unfavorable custody agreement. In a Facebook post that was produced as evidence, Rhoden wrote, "(I'll) never sign papers ever. They will have to kill me first."
That happened in a single April night after months of planning, prosecutors said. On the morning of April 22, 2016, eight members of the family were found dead — and three young children, including the daughter of Jake Wagner and Hanna Rhoden, were found unharmed.
More than a year after the killings, the Wagners moved to Alaska, but they returned to Pike County months before their November 2018 arrests.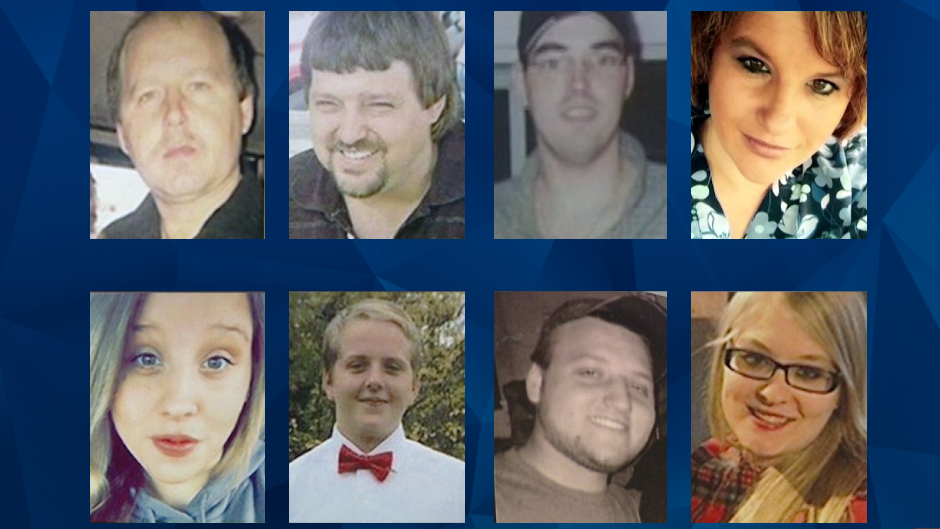 The eight victims were all shot execution-style at three campers and a trailer on a property in Piketon, CrimeOnline reported at the time of the arrests. The victims were identified as Christopher Rhoden Sr, 40, and Dana Rhoden, 37; their three children, Hanna Rhoden, 19, Christopher Rhoden Jr, 16, and Frankie Rhoden, 20; Frankie's fiancee, Hannah Gilley, 20; Christopher Sr's brother, Kenneth Rhoden, 44; and a cousin, Gary Rhoden, 38.
Ohio Attorney Gen. Dave Yost issued a statement Friday evening following Angela Wagner's plea agreement:
"Our society reveres mothers for taking care of their children and teaching them to do the right thing, even when it's hard," he said. "But by actively plotting the murder of an entire family and encouraging her own kids to carry out the violence, Angela Wagner abjectly failed in her responsibilities."
Billy Wagner and George IV still face murder charges and have pleaded not guilty.
For the latest true crime and justice news, subscribe to the 'Crime Stories with Nancy Grace' podcast
[Featured image: Angela Wagner (Ohio Attorney General's office via AP)]