The fugitive mother of a 5-year-old Georgia boy found dead in a suitcase in Indiana earlier this year apparently believed the child was really a 100-year-old demon.
Indiana State Police identified the boy as Cairo Ammar Jordan and his mother as 37-year-old Dejuane Ludie Anderson, both of Atlanta, as CrimeOnline previously posted. Anderson is currently at large.
Sgt. Carey Huls said that investigators had arrested another suspect — identified as 40-year-old Dawn Elaine Coleman of Shreveport, Louisiana — in San Francisco earlier this month on a charges of neglect of a dependent leading to death and obstruction of justice. Anderson faces the same charges as well as a count of murder.
Coleman is expected to be returned to Indiana within 30 days. Police have not said how she is connected with the mother and child other than to say they are "not physically related to each other."
Jordan's body was found inside a hardshell suitcase bearing the iconic "Welcome to Fabulous Las Vegas" sign by a mushroom hunter on April 16, but investigators had no clues to identify him at the time.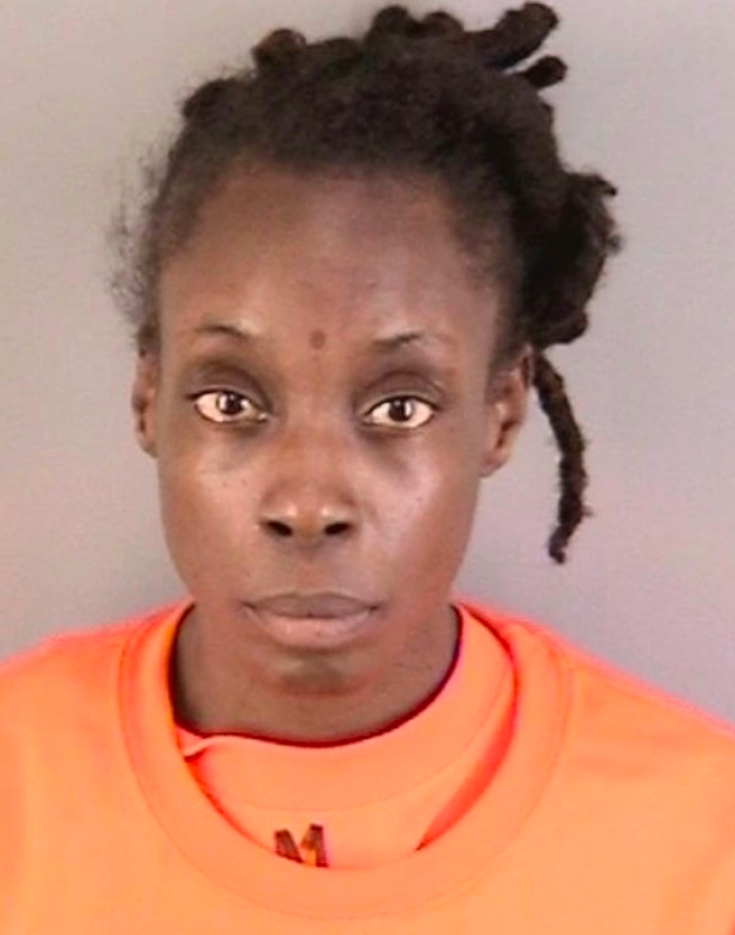 Coleman's probable cause statement says that both suspects were identified by fingerprints found on trash  bags inside the suitcase — Anderson's identified on June 29 and Coleman's on July 25 — and that both of their cell phones pinged on April 14 near the area where the suitcase was found, according to WAVE. Investigators also found surveillance video that showed a car pausing in the same area.
On Coleman's Facebook page, detectives found photos showing the same type suitcase that held the boy's body. More disturbing, however, were social media posts Anderson made as far back as December 2021 saying Cairo was a "demon who needed to be killed or exorcised," WBIW reported.
Over the following weeks, she wrote of "protection spells" and "reversal spells," the court documents said. "I'm using my blood for this ritual," she wrote on January 5.
The following month, Anderson wrote that she was trying to raise her "frequency" to heal others and the ancestors and said she needed to exorcise "a very powerful demonic force from within my son."
A month before the suitcase was found, Anderson wrote that she couldn't "wait to tell this story," mentioning a "book about living with a demonic child" and a podcast.
A week before Jordan's body was found in the suitcase, Coleman posted in a similar vein: "Just because the avatar is of what we call a child does not mean that it is actually a child. … There are beings that are here that are not supposed to be here that pick avatars to hide behind to play roles to steal energy and ruin lives."
Anderson reached out to a priest in Indianapolis on April 12 saying she had survived an attack from her son.
"I have survived the death attacks from my 5-year-old throughout the 5 years he has been alive. I have been able to weaken his powers through our blood," she wrote, according to WLWT. "I have his real name and he is 100 years old. Need assistance."
The court documents also say the weeks leading up to the two women dumping the suitcase containing the boy's body included several encounters with police. In March, Anderson led police on a high speed chase in South Carolina that ended when her Dodge Challenger ran out of gas, WBIW reported. Coleman and Cairo were also in the car, but neither woman would open the car doors, forcing officers to break the driver's window to open the door. Anderson was charged with child endangerment while Cairo was sent to a hotel with Coleman.
Days later, on March 31, Anderson was arrested in Louisville, Kentucky, on a shoplifting charge and allegedly punched a security officer in the face. She was released on her own recognizance on April 11 — days before the discovery of Cairo's body — but she never showed for her scheduled court appearances in May and a bench warrant was issued for her arrest.
And on April 16 — the day the boy's body was found — a Riverlink camera caught Anderson's car driving over the Interstate 65 bridge from Indiana to Kentucky.
For the latest true crime and justice news, subscribe to the 'Crime Stories with Nancy Grace' podcast.
[Featured image: Indiana State Police and Facebook]