The wife of a convicted killer is urging the public to stop accusing her husband of murdering the four University of Idaho students who were stabbed to death last month, telling the Daily Mail that the harassment is endangering her family.
The plea comes after the woman's husband, 39-year-old James Curtis Leonard, was arrested this week for allegedly beating her up and stalking her with a knife at their home in Moscow, Idaho, about a mile from where the four students were murdered.
In an interview with the Daily Mail, the wife, whose name was not provided, said her husband was drunk and had not taken his anti-depressant medication, which she said likely led to the domestic violence.
But she insisted that Leonard was not involved in the murders of the four college students: The woman said her husband was home at the time of the slayings in the early morning hours of November 13 and that he went to work at 7 a.m.
"There's a lot of crazy stuff going on, but my husband had nothing to do with what happened up there," the wife told the Daily Mail. "It's not linked at all. This is really p***ing me off."
The wife said she and her family are being harassed online, partly because of a YouTube video attempting to link Leonard to the murders entitled "James Curtis Leonard! SUSPECT. Moscow Idaho."
"People on the internet are trying to pin the murders on him," the wife told the Daily Mail. "I had to get off that social media s**t."
She added: "Our family has been in danger because of all these false statements being made on the internet."
A key reason why Leonard has attracted online attention is that he pleaded guilty to involuntary manslaughter in 2009 after he shot and killed a man outside his home in 2007, according to the Daily Mail.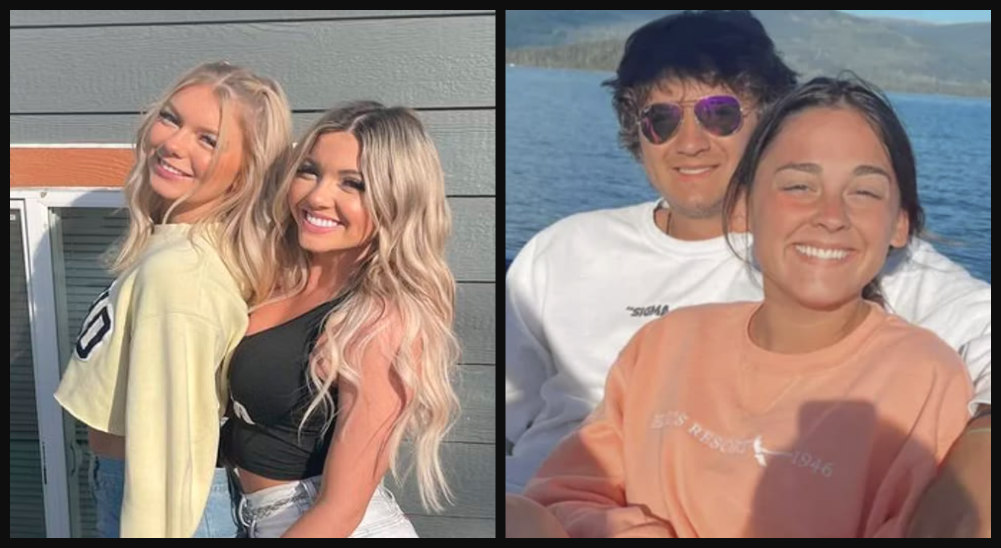 Leonard argued that the shooting was in self-defense and said the man had threatened him.
Under the plea, Leonard agreed to serve between five and 15 years; the court suspended the sentence in May 2009 and he was ordered to serve probation for 15 years.
Local authorities have urged the public to not participate or rely on internet rumors and cautioned that threats and harassment can lead to criminal charges.
"Investigators have been monitoring online activity related to this ongoing and active case and are aware of the large amount of rumors and misinformation being shared as well as harassing and threatening behavior toward potentially involved parties," the Moscow Police Department said in a press release.
"Anyone engaging in threats or harassment whether in person, online or otherwise needs to understand that they could be subjecting themselves to criminal charges."
As for this week's incident, police officers responded to Leonard's home, where they found him with a cut on his forearm, and his wife had blood on her face.
The wife told officers that Leonard drank "half a bottle of gin," and accused her of cheating and yelled in front of her two children and others.
Leonard allegedly then began cutting himself, and when his wife checked on him, he is accused of punching her. He also allegedly struck a 15-year-old and gave them a concussion.
Prosecutors allege that Leonard stalked his wife around the home with a knife and cut his arm while she was called 911.
"They're throwing it back out, calling him a murderer," the wife told the Daily Mail. "This was 2007 that that happened. He was young and stupid at the time, and he'll be the first to admit it."
She said her husband "is not the same person now" and added that "this is the first time anything like this has ever happened," according to the Daily Mail.
"He was depressed the other night, drank a little more than he should have, and didn't take his anti-depressants, and I think that's what triggered him. The whole night was just a big mess. It shouldn't have ever happened," the wife told the Daily Mail.
Leonard is being detained in jail on $100,000 bail for the incident this week.
Meanwhile, police continue to investigate the murders of the four college students who were found stabbed to death in an off-campus house four weeks ago. Investigators believe the attack occurred between 3 and 4 a.m.
The victims are 21-year-old Madison Mogen, 21-year-old Kaylee Goncalves, 20-year-old Ethan Chapin and 20-year-old Xana Kernodle.
Two of the victims were found on the second floor, and another two were found on the third floor of the house, which is built into a hill.
Two roommates who were on the first floor were not attacked by the assailant, and police say they do not believe the surviving roommates had anything to do with the murders.
Police have not yet identified any suspects in connection with the killings.
Investigators earlier this week said they were looking to speak with the occupants of a white 2011-2013 Hyundai Elantra that is believed to have been in the immediate area of the King Road residence in the early morning hours of November 13.
To report information about the case, call 208-883-7180 or email tipline@ci.moscow.id.us.
For the latest true crime and justice news, subscribe to the 'Crime Stories with Nancy Grace' podcast.
Join Nancy Grace for her new online video series designed to help you protect what you love most — your children.
[Featured image: Police Handout]