The Virginia sheriff's deputy who catfished a California teen and murdered her family last year had a history of grooming girls online.
As CrimeOnline previously reported, Austin Lee Edwards disclosed a "voluntary" mental health stay in February 2016 to a state police hiring investigator — which didn't trigger further investigation. Edwards was hired as a state trooper, then quit a few months later and applied for a position with the Washington County Sheriff's Office.
He'd been on the job for just two weeks in Washington County when he drove across the country to meet a 15-year-old girl he'd been chatting up online, murdered her mother and grandparents, and kidnapped her. He shot himself with his service weapon when police closed in on him 200 miles away. He made the cross-country trip after the girl balked at sending him nude photographs.
The Los Angeles Times has reported that Edwards' mental health stay — which came after he cut his hand and threatened to kill his father — came just two weeks after a 14-year-old girl, with whom he'd been chatting since she was 13, tried to cut off contact with him.
The Times reviewed thousands of messages between the woman, now 21, and Edwards, beginning in 2014 when they met on Omegle, a platform that randomly pairs users. She was up front about her age, she said.
"This guy stalked me and groomed me when I was a child," she told the newspaper.
"My first thought in the morning is you and I go to sleep at night thinking about you," he wrote on January 13, 2016. "It's so nice havng someone that I can love knowing you love me back. You're the best thing in my life and I wouldn't trade you for anyone."
The following day, Edwards told her he wanted to meet in person and that he'd found a cheap round-trip ticket to her state.
"Thats cheap af i might try to come there sooner idk," he wrote. "you can leave house whenever you want right. cus if I came there it'd be dumb if we couldnt hang out."
Two weeks later, the teen told Edwards, then 20, she wanted to "break up" with him. "What the f***," he replied. "I thought you loved me?!"
"Don't do that again please," he said. "like ever again. that really hurt."
Over the next few days, Edwards continued to mention visiting. Then, on February 7, he told her he wanted to kill himself but wouldn't because he loved her. He asked for a video chat, and the two got onto Skype. There, he was crying and said he'd been drinking.
In another video call made the same day, Edwards was in a bathroom. He showed her a cut he'd made on his hand and showed her the hatchet he used to make it. The call ended when Edwards' father tried to come into the bathroom, she told The Times.
And that corresponds with the day Edwards was taken to a psychiatric hospital. A few days later, out of the hospital, he told her that he "actually knew a bit about how those places work so I just told them everything they wanted to hear, so they threw me out in 2 days."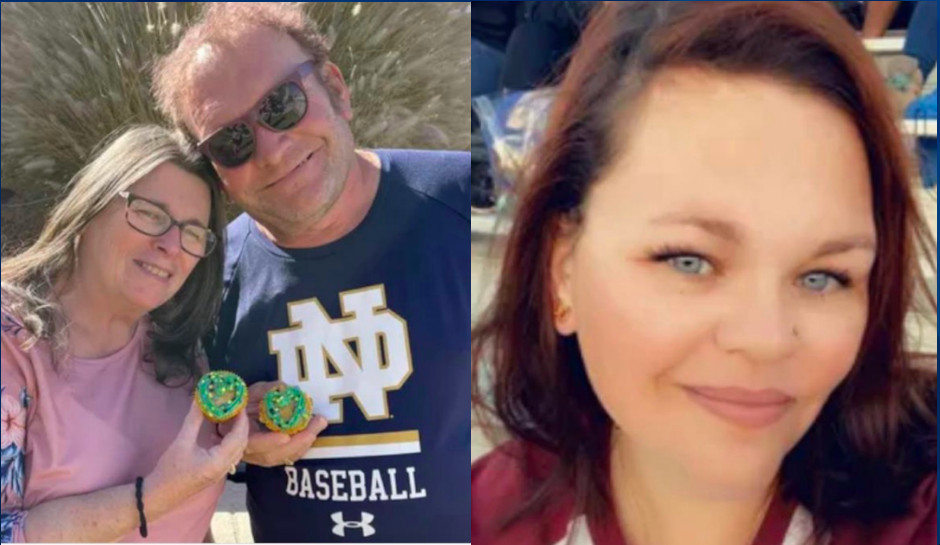 The woman told The Times that she did send Edwards nude photographs at one point — and that he had threatened violence if she didn't — but that she eventually blocked him. He continued to try to contact her through Facebook, even though she'd never given him her real name.
He made a final attempt to contact her in December 2020, and she replied, to tell him never to contact her again. A few weeks later, he applied to the Virginia State Police, although his gun rights had been taken away because of the 2016 incident, and law enforcement found no evidence he'd applied to have them returned to him.
Posing as a 17-year-old boy, he talked up a 15-year-old girl in Riverside, California, then traveled to her home last November. He killed her mother, 38-year-old Brooke Winek, and grandparents, Sherie and Mark Winek. A Virginia State Police spokesperson said his application was approved because of "human error."
"It's just crazy that he was able to become a cop with me knowing his mental health issues," the 2016 victim told the Times. "I don't understand how he got past everything because it was so prominent to me that he had so many issues just from talking to him in that time period."
For the latest true crime and justice news, subscribe to the 'Crime Stories with Nancy Grace' podcast.
[Featured image: Austin Lee Edwards/Virginia State Police]