Prosecutors rested their case Friday against disgraced South Carolina attorney Alex Murdaugh, wrapping up the state's testimony with a final witness to tie up phone and GPS information that had been given to jurors over the past two weeks of trial.
A new piece of information: Paul and Maggie Murdaugh apparently uncovered Alex Murdaugh's drug habit a month before they were shot to death on the family's hunting property.
"When you get here we have to talk," Paul Murdaugh said in a May 6, 2021, text to his father, according to the New York Times. "Mom found several bags of pills in your computer bag."
That same day, Maggie Murdaugh was searching the internet for pill markings to identify what she'd found. "I am very sorry that I do this to all of you. I love you," Alex texted her the next day.
Three weeks later, Maggie was searching for a different pill description.
Paul and Maggie were gunned down on June 7, 2021, near the property's dog kennels. Alex Murdaugh says he had dinner with them earlier, then took a nap while they went to the kennels. He woke up about 9 p.m., he said, and drove to visit his mother, who has Alzheimer's, without seeing or speaking to his wife or son — although several witnesses testified that Alex's voice is heard on a video Paul took just minutes before he was shot dead.
When Alex Murdaugh returned around 10, he said, he found their bodies and called 911.
Prosecutors say the shootings took place around 9 p.m., when Paul and Maggie's phones stopped recording any movement, although the backlight on Maggie's phone turned on and off briefly at about 9:08 p.m. At about that same time, investigators testified, Alex Murdaugh's vehicle slowed near the spot where Maggie's phone was found, then sped off.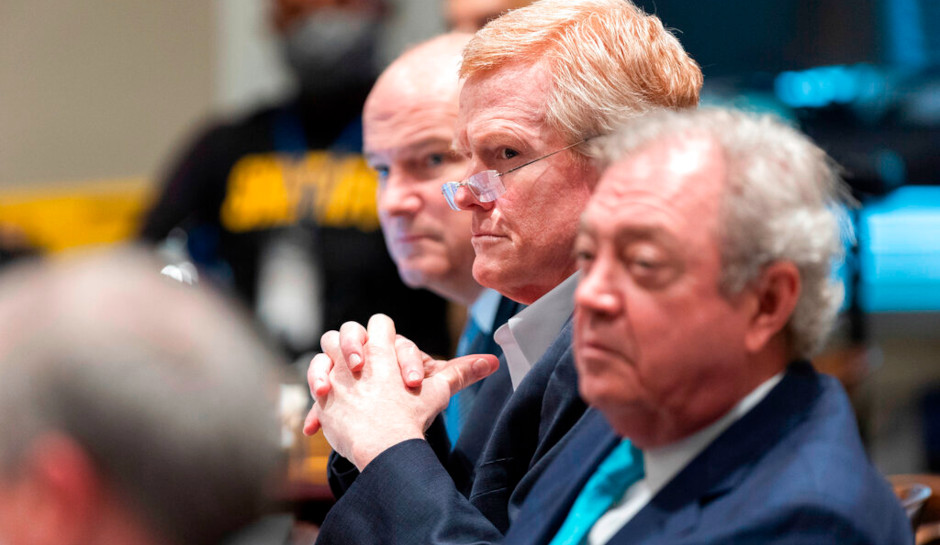 That testimony came from SLED Special Agent Peter Rudofski on Friday. Rudofski testified that Murdaugh's phone recorded no movement between 8:09 p.m. and 9:02 p.m. on the night of the murders, while it recorded 283 steps between 9:02 and 9:06. When Murdaugh returned to the house that night, he said he checked Paul and Maggie for pulses before calling 911. Rudofski said Murdaugh called 911 less than 20 seconds after his SUV arrived at the kennels.
The state contends that Alex Murdaugh killed his wife and son to distract from growing scrutiny of his financial crimes, which reached a crescendo three months later when his great-grandfather's law firm kicked him out over millions of dollars in fraud — money he was apparently using to fund a two-decade long drug habit. The day after, on September 4, Murdaugh had a former client — and his apparent drug dealer — shoot him in a botched "suicide for hire" scheme to allow his surviving son, Buster, to receive a $10 million insurance payout.
Jurors heard testimony this week about the scheme after Judge Clifton Newman reversed an earlier decision disallowing it when defense attorneys brought up the scheme during a cross-examination.
The prosecution has spent much of its time hammering away at Murdaugh's alibi for the murders, specifically picking apart the timeline.
There is no solid evidence — neither of the guns used in the shootings were found, and Murdaugh's clothes had no blood evidence. He did appear to have changed clothes at some point in the night, but the clothing he was wearing originally was not presented. There were no witnesses to the shooting.
On cross-examination, the defense has tried to paint in the investigation as sloppy and stressed that it is purely circumstantial.
Murdaugh's attorneys began to set up their defense late Friday afternoon and will continue when the trial resumes Tuesday morning.
For the latest true crime and justice news, subscribe to the 'Crime Stories with Nancy Grace' podcast.
[Featured image: South Carolina Law Enforcement Division special agent Peter Rudofski, left, testifies about GPS data points provided by General Motors during Alex Murdaugh's double murder trial at the Colleton County Courthouse on February 17, 2023. (Grace Beahm Alford/The Post And Courier via AP, Pool)]