The infamous "burn after reading" letter, written by Roberta Laundrie to her son Brian Laundrie, has been released to the public in full by an attorney for the parents of Gabby Petito.
The letter contains a reference to Brian Laundrie in jail or needing to "dispose of a body." It was found among Laundrie's items by FBI agents who searched the Laundries' house before Petito's body was found in Wyoming, as CrimeOnline previously reported.
Brian Laundrie was found dead in October 2021 from a self-inflicted gunshot wound in a Florida swamp, where he fled after returning from his ill-fated cross-country van trip with Petito. In a meandering entry in his journal, found near his body, Laundrie confessed to killing Petito, whose body was found in Bridger-Teton National Forest in September.
"If you're in jail I will bake a cake with a file in it. If you need to dispose of a body. I will show up with a shovel and garbage bags."
This is the Roberta Laundrie "burn after reading" letter she gave to Brian Laundrie.
Sent to me by Petito family attorney. pic.twitter.com/VIiLk3wa4J

— Brian Entin (@BrianEntin) May 25, 2023
Laundrie's return home to Florida that month — alone — sparked a desperate search for Petito after he and his parents refused to speak with Petito's parents about what happened. At first, Petito's parents were even unaware that Laundrie was back in Florida.
Her parents — Joe Petito and Nichole Schmidt — have filed suit against Roberta and Christopher Laundrie, alleging that they knew their son had killed Petito and kept it from them. The Laundries fought to keep the undated letter out of evidence in the case, but on Wednesday, Florida Judge Danielle Brewer ruled that the letter was admissible, and the Laundries' attorney, Matthew Lukda, handed over several copies of the letter, the New York Post reported.
Petito and Schmidt's attorney, Pat Reilly, sent copies to multiple news agencies.
"I just want you to know I will always love you, and I know you will always love me," the 2-page letter begins. "Nothing can make me stop loving you, nothing will or could ever divide us. No matter what we do, or where we go or what we say — we will always love each other."
"If you're in jail, I will bake a cake with a file in it. If you need to dispose of a body, I will show up with a shovel and garbage bags. If you fly to the moon, I will be watching the skies for your re-entry. If you say you hate my guts, I will get new guts.

"Remember that love is a verb, not a noun. It's not a thing, it is not words, it is actions. Watch people's actions to know if they love you — not their words."
Roberta Laundrie next quotes a passage from the Bible, Romans 8:38-39, about there being no power anywhere that could "separate our love," although she replaces the last dozen words of the passage with an ellipis. The missing phrase is " … from the love of God that is in Christ Jesus our Lord."
She concludes: "(Nothing can separate us: not hatred, not hunger, not homelessness, not threats, not even sin, not the thinkable or unthinkable can get between us.)
~ Not time. Not miles and miles and miles. ~
Roberta Laundrie addressed the letter to her son using his full name, Brian Christopher Laundrie, and included the "burn after reading phrase" on one side of the outer folds. The other side includes what appears to be a stamp of the bird seen on the cover of the first edition of the horror-satire novel "Lullaby" by Chuck Palahniuk, published in 2002, and the word "Remember … ." Laundrie is seen with a copy of the book on some of the photos taken during his trip with Petito.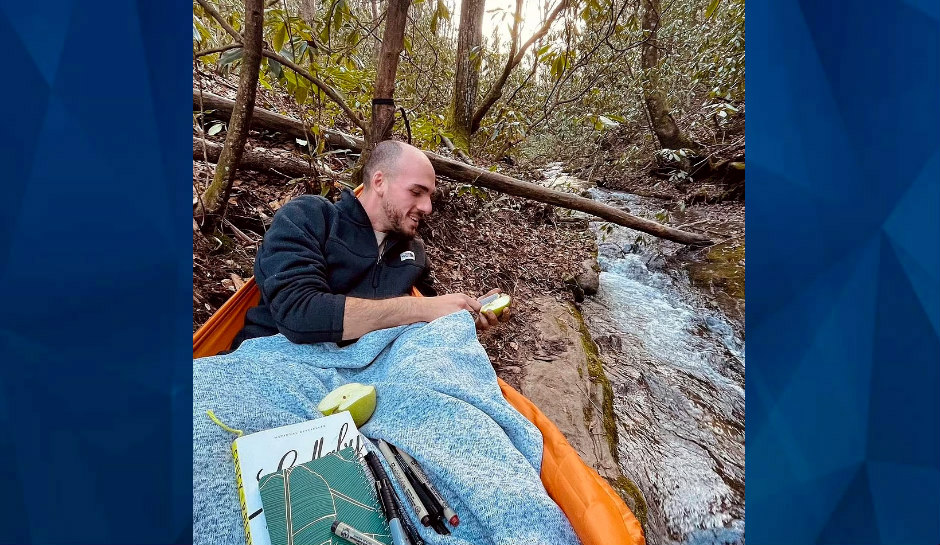 The bird on the novel's cover is upside down; the bird on the letter is right side up.
Roberta Laundrie has previously said that the letter was written and given to her son before he and Petito left for their road trip and that it "was to reach out to Brian while he and I were experiencing a difficult period in our relationship," as CrimeOnline previously reported.
The "burn after reading" reference, she said, actually referred to a book called "Burn After Writing" — now a series of books containing aids to journaling — that Petito had given her son.
She further said that other references in the letter are to children's books that were favorites of her son as a child — "The Runaway Bunny" and "Little Bear."
In the court room on Wednesday, Reilly held up copies two of those books and said he found no references to shovels or burying bodies in them the Post said.
Read more from CrimeOnline on the Gabby Petito case.
For the latest true crime and justice news, subscribe to the 'Crime Stories with Nancy Grace' podcast.
[Featured image: Gabby Petito and Brian Laundrie/Instagram]