The neighbor of Colorado boy Gannon Stauch, who recorded footage of the child leaving home with his stepmother the day he disappeared, says that he gave the correct dates of the videos, despite the stepmother's insistence that he may not have.
As CrimeOnline previously reported, Gannon's stepmother, Letecia "Tecia" Stauch, said last saw the boy on January 27 at some point between 3 p.m. and 4 p.m. at their Lorcan Ranch home off of Mandan Drive, near Colorado Springs.
Stauch said Gannon left to go to a friend's house and never returned home. No one in the neighborhood saw Gannon on January 27, but Roderick Drayton says his security cameras showed the child leaving home with his stepmother in a red Nissan Frontier truck at around 10:20 a.m.
Drayton said Tecia Stauch arrived back home the same day at a little after 2 p.m., but she was alone.
It's True Justice Month on Fox Nation, and "Crimes Stories with Nancy Grace" is available now! Sign up today and get your first month for only 99cents!
Stauch denied the allegation.
Stauch told CrimeOnline that Gannon was with her when she arrived back home and that as he exited the truck, he was holding a white bag in his hand.
Stach theorized that Drayton may have provided the incorrect date of the surveillance footage, since her teen daughter arrived home on January 27 at around 4:38 p.m., and parked in the same spot her truck was spotted in on security footage.
"We both couldn't have parked there," Stauch said. "Something is not right. I even helped [my stepdaughter] get the bike out of the garage, and then her and [my teen daughter] went to Dollar Tree. Truck was on the road then."
CrimeOnline spoke with Drayton regarding the date of the security footage. Drayton said he not only was he absolutely sure that Stauch left with Gannon on January 27 and returned home alone, but the video footage was given to the FBI with the dates and time stamps attached.
Drayton then provided CrimeOnline with security footage taken on Sunday, January 26.
"I was looking back and I saw them, and they were outside Sunday playing. It was before Monday," Drayton said. "She backed up and said, 'Gannon you get on this side, Laina you get on the other side,' because I could hear what they were saying. My camera picks up sound and everything. I got them coming. I got him getting out of the car Sunday and running to the house. He was perfectly fine."
Drayton said the following morning, however, Gannon could barely walk.
"On Sunday he looked fine. He was running around playing with his sister. On Monday, he looked drugged, he looked sick. He could barely walk."
Drayton added that there is a lot more footage that has not been shown publicly, that was handed over to authorities.
"Nobody offered me any money. I didn't release the tapes. News media released it. They were told not to but they released it…I guess she didn't realize that I had a camera, but the FBI came and recorded [the footage] I guess from Saturday until that whole week. So they know everything she done from that Saturday until that following Saturday."
On March 2, Letecia Stauch was arrested in Myrtle Beach, South Carolina. Stauch previously told CrimeOnline that she went to South Carolina because she didn't feel safe in Colorado anymore. She's now back in Colorado after waiving an extradition hearing last week.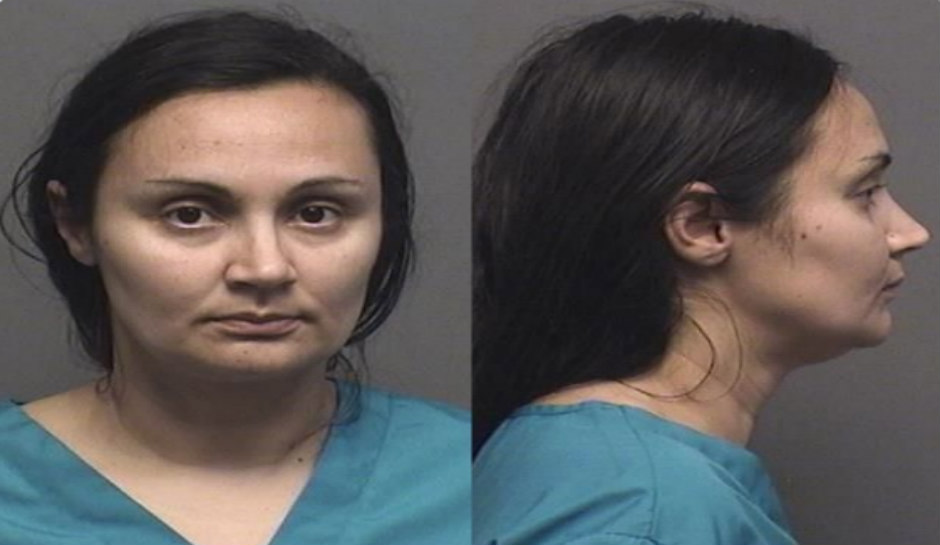 Stauch is facing charges of:
Murder in the First-Degree (Child Under Twelve-Position of Trust §18-3-102(1)(f))
Child Abuse Resulting in Death §18-6-401(1)(a), (7)(A)(I)
Tampering with a Deceased Human Body, §18-8-610.5
Tampering with Physical Evidence, §18-8-610(1)(a)
Her next court appearance is scheduled for March 11. Check back for updates.
Additional Coverage
PART ONE: Tecia Stauch Interview
PART TWO: Tecia Stauch Interview
PART THREE: Tecia Stauch Interview
CLICK HERE to see all of our coverage on Gannon Stauch
Check back for updates.
Join Nancy Grace for her new online video series designed to help you protect what you love most – your children.
[Feature Photo: Tecia Stauch/Police Handout; Gannon Stauch/Handout]