Alex Murdaugh's attorneys filed a notice of appeal Thursday afternoon with the South Carolina Court of Appeals, the first step in appealing the disgraced former attorney's convictions for the murders of his wife and son.
Dick Harpootlian and Jim Griffin said after Judge Clifton Newman sentenced their client to two consecutive life sentences with no possibility of parole that they intended to appeal, noting their belief that Newman should not have allowed the prosecution to enter evidence about Murdaugh's multi-million financial crimes, for which he has yet to stand trial.
As CrimeOnline previously reported, Newman initially barred the prosecution from discussing the financial fraud, which prosecutors believe was in part a motive for the murders. But on the same day Newman issued that order, Murdaugh's attorneys questioned a witness during cross-examination, asking him if he had any idea why Murdaugh would have killed his wife Maggie and son Paul. And that, Newman said, opened the door to a discussion of the financial crimes, and he reversed his ruling.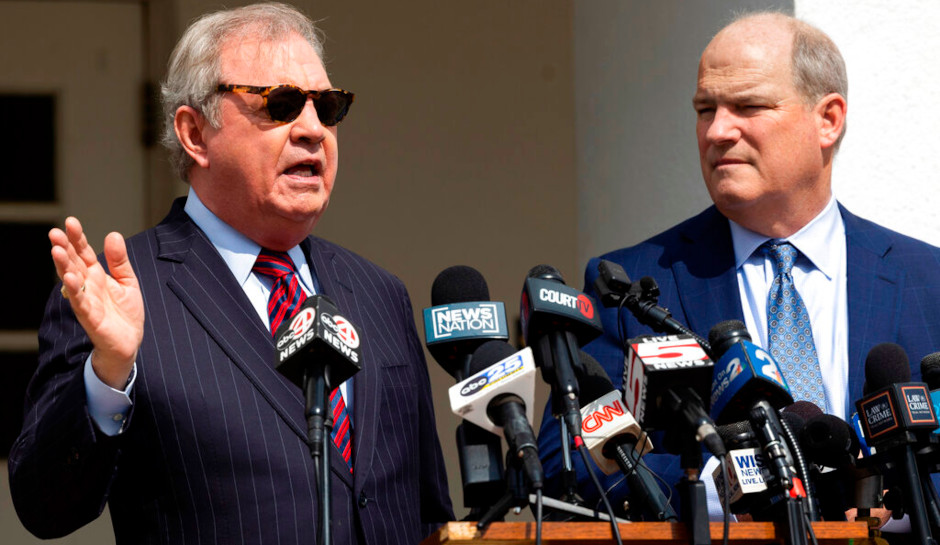 "Once they got that character information in that he's a thief, he's a liar, then it dictated this jury had to think he was a despicable human being and not to be believed. So it was about character, it wasn't about motive. So as a result, our options were limited," Harpootlian said on Friday. "Look, they won this case the day the judge bought into letting them put every piece of, you know, stealing from kids who lost their mother, from somebody with pancreatic cancer, somebody that's a paraplegic. I mean, all of that two and a half weeks, by the time they got done with it, it didn't matter about final argument. It didn't matter about what we put up. He was, they would never ever, ever acquit him after that."
But jurors who have spoken out since the verdict, which took less than three hours of deliberations, have yet to mention the financial crimes. Instead, each one has pointed to Murdaugh's own testimony and his admission that he was, in fact, at the kennels — where the murders took place — just minutes before Maggie and Paul Murdaugh were gunned down.
Murdaugh spent months denying that he had been there. He was at the house, napping, he said, and left to visit his Alzheimer's patient mother without seeing his wife and son again. Then, he said, he returned and found their bodies.
But prosecutors played a video recorded by Paul just minutes before his phone stopped moving. He's recording a dog that he's taking care of for a friend, and in the background, the voices of both his mother and father are heard. Multiple witnesses identified the male voice as Alex Murdaugh's, and the defense put the defendant on the stand for his surprise admission that he had lied.
Murdaugh blamed his drug addiction for the lies, and he also admitted the financial crimes and that he'd plotted to have a former client kill him so his surviving son Buster could reap a $10 million insurance settlement — another point Newman initially barred from testimony until the defense brought it up.
Three people on the jury for Alex Murdaugh's double murder trial, James McDowell, Gwen Generette and Amie Williams, open up to @craigmelvin about the proceedings and the deliberations that led to a guilty verdict. pic.twitter.com/LCrgIODPsj

— TODAY (@TODAYshow) March 6, 2023
The jurors who have spoken out said they just didn't believe Murdaugh when he said he didn't kill Paul and Maggie.
Harpootlian said last week that Murdaugh had always wanted to testify.
"But once that information was in, I mean, if he had to take the stand to explain the kennel video, the lie, if you will, all of his credibility had been stripped away by the financial misdeeds," he said.
The notice of appeal had to be filed within 10 days of the verdict, WCSC said. Harpootlian said last week that the actual appeal will be filed after he and Griffin have obtained a transcript of the trial and had time to go over it
Murdaugh, meanwhile, has begun his life sentences at South Carolina's Kirkland facility.
For the latest true crime and justice news, subscribe to the 'Crime Stories with Nancy Grace' podcast.
[Featured image: Alex Murdaugh/South Carolina Department of Corrections]