Testimony continued Wednesday morning in the case of Letecia Stauch, a stepmother accused of killing her 11-year-old stepson, Gannon Stauch, in 2020, with recorded phone calls between the defendant and her now ex-husband, Al Stauch.
As CrimeOnline previously reported, prosecutors say 39-year-old Letecia Stauch stabbed, shot, and beat Gannon inside the family's El Paso County home in January 2020. Months later, his body was found stuffed into a suitcase beneath a bridge in Pace, Florida.
She's currently on trial at the El Paso County Court in Colorado, facing first-degree murder and related charges.
Stauch pleaded not guilty due to insanity, claiming she was legally insane when the crime occurred. Her defense lawyer, Will Cook, said during opening statements that Letecia had dissociative identity disorder during the time of the incident, caused by emotional, physical, and sexual abuse during childhood.
Prior to her arrest, the defendant spoke numerous times to the victim's father, Al Stauch, in recorded 2020 conversations played in court this week. Her stories, according to prosecutors, were marked with inconsistencies and different versions of what happened to Gannon, who she reported missing from the family's Fountain home on January 27, 2020.
Jurors heard Tuesday a February 2020 phone conversation between the defendant and Al Stauch, with Letecia claiming she was kidnapped, raped, and beaten by a man named Edguardo, who she said also took Gannon.
In another conversation between the defendant and her husband played in court Wednesday, Letecia Stauch said the abductor was still inside the home with Gannon, likely hiding in the storage room as police searched their Fountain home on January 27, 2020.
Then, in another conversation, she told Al Stuach that a man named Quincy Brown took the child and no longer name the abductor "Edguardo." Al, frustrated by the inconsistent stories, asked the defendant point blank if she killed his son.
Al Stauch: "Did you kill Gannon?"
Letecia Stauch: "I can't believe you asked me this!"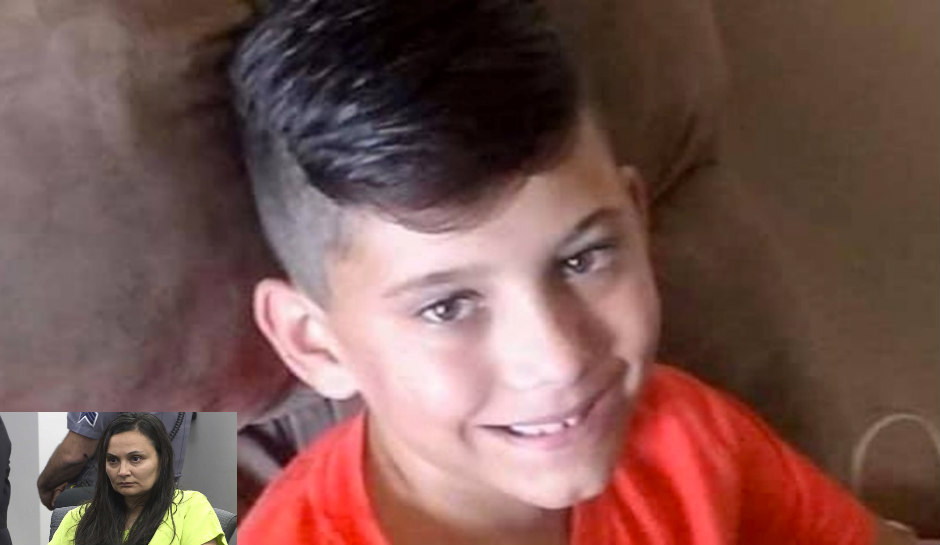 Al told Letecia that her numerous stories "didn't make sense," including alleged accidents Gannon had prior to his disappearance; the defendant attempted to explain blood found in the garage by stating Gannon cut his foot while walking barefoot.
"There is no f***ing dude, Tecia, prove me wrong," Al said during one of the calls. "Don't even say that name to me again because it's bull****. Tomorrow it's gonna be somebody different."
"There's no Quincy, there's no Edguardo….there's no f***ing Quincy Brown!"
The defendant changed her story again during a subsequent phone call with Stauch, claiming that Gannon had been injured badly by "Quincy Brown" after she met up with the man to buy a bike.
According to the defendant, Gannon was trying the bike out while riding it with Brown when the pair slipped and crashed, causing the child severe injuries. Brown, who is not a suspect in the case, then left the scene with the badly-injured boy, according to what the defendant said.
"It was pretty bad," Letecia told Al during the call, adding that blood was dripping down his face.
Al testified Wednesday that he met the defendant in 2014 while they lived in South Carolina. He said he never saw anything during their marriage that would make him think she would kill Gannon, although she did help him with disciplining the children, which included her own daughter, Harley, and Gannon's younger sister, Laina.
Letecia Stauch is facing charges of:
Murder in the First Degree (Child Under Twelve-Position of Trust §18-3-102(1)(f))
Tampering with a Deceased Human Body, §18-8-610.5
Tampering with Physical Evidence, §18-8-610(1)(a)
The trial continues. Check back for updates.
Additional Information
PART ONE: Tecia Stauch Interview
PART TWO: Tecia Stauch Interview
PART THREE: Tecia Stauch Interview
Neighbor Roderrick Drayton Interview
CLICK HERE to see all of our coverage on Gannon Stauch
For the latest true crime and justice news, subscribe to the 'Crime Stories with Nancy Grace' podcast. Listen to a previous episode on the case below.
Join Nancy Grace for her new online video series designed to help you protect what you love most – your children.
[Feature Photo: Al and Leticia Stauch/Facebook; Gannon Stauch via Landon Hiott]