Testimony continued Monday morning in the Letecia Stauch murder trial, with a medical examiner explaining wounds found on the body of 11-year-old murder victim, Gannon Stauch.
Dr. Susan Ignacio, who identified herself as an associate medical examiner in Largo, Florida, testified that she took part in Gannon's autopsy on March 18, 2020.
As CrimeOnline previously reported, prosecutors say Letecia Stauch stabbed, shot, and beat her stepson, Gannon, inside the family's El Paso County home in Colorado, in January 2020. Months later, his body was found stuffed into a suitcase beneath a bridge in Pace, Florida.
Letecia Stauch is on trial at the El Paso County Court in Colorado, facing first-degree murder and related charges.
According to Ignacio, Gannon had 18 sharp-force injuries. He also had several lacerations across his chest, caused by a sharp object, Ignacio said, such as a knife or blade; he also had a severe injury to the back of his head which caused a deep gash and fractured skull.
The victim tried to defend himself against the attacker, causing numerous cuts on his hands that likely happened when he put his hands up in defense. Ignacio said the victim had four cuts on the back of his right hand, caused by a sharp object, and another sharp force injury on his left hand.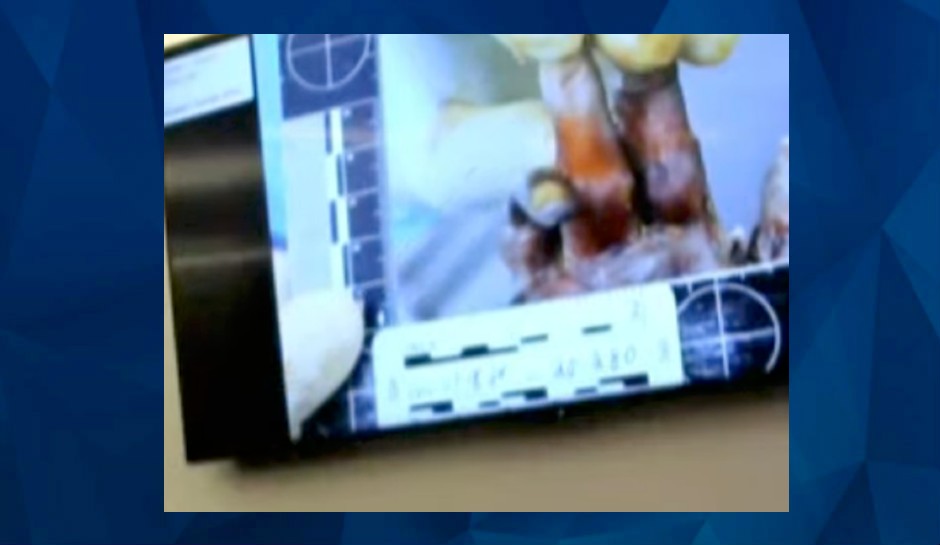 The victim also had a sharp force injury on his upper back, which caused a deep wound that sliced into the space between Gannon's fifth and sixth ribs. Ignacio said the wound was so severe it seriously fractured the child's sixth rib.
The autopsy also found the victim to have a deep laceration across the left side of his chest, and an upper left arm wound. Ignacio added that the injuries appeared to be intentional, carried out by someone who intended to kill the victim.
Two bullets were found inside a pillow case, that was stuffed into a suitcase with Gannon's body, the court heard last week. Another bullet, according to the autopsy, went through the victim's jaw and severed his spinal cord, Ignacio said.
A toxicology report indicated that Gannon had both hydrocodone and acetaminophen in his system. Ignacio testified that the victim had hydrocodone in his system for 12 hours or less before death, as seen from samples taken from his liver and spleen.
The amount of hydrocodone given to the victim was unclear due to the body's decomposition.
Gannon's father, Al Stauch, took the stand briefly and testified he had been prescribed hydrocodone for a finger injury, but didn't finish the prescription and left the medication in a drawer in his bedroom. He said he never gave his son the medication and only he and the defendant knew where the medication was.
Special Agent for FBI Violent Crime Task Force, Andrew Cohen, also took the stand Friday and said Letecia Stauch attempted to obtain a fake lie detector test from a company called "Fakepolygraphtest.com."
A recording played between a customer service associate at the company and the defendant indicated that Stauch never received the test results after the questions she answered on the test were against company policies.
According to Cohen, the defendant tried to order the fake test to show her husband that she didn't have anything to do with Gannon's death.
Also taking the stand Friday was former evidence technician with EPSCO Christina Cervantes, along with Det. Michael Bauman with EPSCO and Sgt. Kurt Smith with EPCSO.
Letecia Stauch is facing charges of:
Murder in the First Degree (Child Under Twelve-Position of Trust §18-3-102(1)(f))
Tampering with a Deceased Human Body, §18-8-610.5
Tampering with Physical Evidence, §18-8-610(1)(a)
The trial continues. Check back for updates.
Additional Information
PART ONE: Tecia Stauch Interview
PART TWO: Tecia Stauch Interview
PART THREE: Tecia Stauch Interview
Neighbor Roderrick Drayton Interview
CLICK HERE to see all of our coverage on Gannon Stauch
For the latest true crime and justice news, subscribe to the 'Crime Stories with Nancy Grace' podcast. Listen to a previous episode on the case below.
Join Nancy Grace for her new online video series designed to help you protect what you love most – your children.
[Feature Photo: Gannon Stauch/Handout]
Editorial Note: The story has been updated to reflect that the victim had 18 sharp-force injuries.