Texas state officials offered up a new timeline of Tuesday's horrific and deadly shooting at an elementary school in Uvalde — including walking back their own earlier reports that police "engaged" Salvador Ramos before he entered the building and killed 19 students and two teachers.
Seventeen other people were wounded in the attack.
"He was not confronted by anybody," Victor Escalon, the Department of Public Safety South Texas Regional Director, told reporters at a news conference on Thursday, the Texas Tribune reported. "He walked in unobstructed, initially."
Ramos, 18, walked "unobstructed" into a back door that was apparently unlocked 12 minutes after crashing his grandmother's truck in a ditch outside Robb Elementary School, Escalon said. He had shot his grandmother in the face just minutes before, at 11:20 a.m., when the grandmother called 911. Eight minutes later, witnesses reported the crashed truck.
"He walks around. He sees two witnesses at a funeral home across the street. He fires toward them. He continues walking towards the school. He climbs a fence. Now he's in the parking lot shooting at the school multiple times," Escalon said.
Uvalde Police officers arrived four minutes after Ramos went inside, even though witnesses reported seeing him get out of the crashed truck with a rifle. The Uvalde Police Department is just a handful of blocks from the school.
On Wednesday, DPS Director Steve McCraw said that a school resource officer "engaged" Ramos before he entered but didn't exchange gunfire. Other DPS officials said there was, in fact, gunfire at this moment, as CrimeOnline previously reported.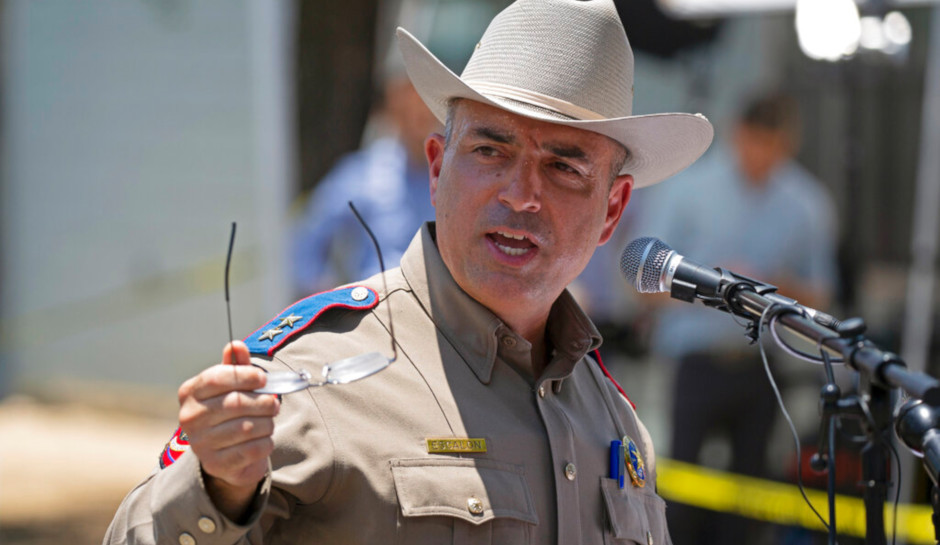 But Escalon said Thursday that there wasn't even a school resource office on duty at the school on Tuesday and that no exchange of gunfire took place until Ramos was already inside the building where 2nd, 3rd, and 4th graders huddled in silence, terrified. Instead, Ramos just walked in.
"He walks, and I'm going to approximate 20 or 30 feet, he makes a right and walks into the hallway, he makes a right, makes another 20 feet, turns left into a schoolroom, into a classroom that has doors open in the middle," Escalon said.
School and city police and county deputies arrived on the scene and pulled back, away from the gunman's bullets. Law enforcement tried to make contact with Ramos, but "he did not respond," Escalon said, and instead shot at the officers.
"At that point, if they pursued it any further — not knowing where the suspect was at — they could've been shot, they could've been killed and, at that point, that gunman would have the opportunity to kill other people inside that school," Texas DPS Lieutenant Chris Olivarez told CNN on Thursday.
Worried and frightened parents arrived on the scene and pleaded with officers to "Go in there." One — Angeli Rose Gomez, a farm supervisor with two children in the school — was working 40 miles away when she heard about the shooting. She quickly drove to the school.
"The police were doing nothing," she told The Wall Street Journal. "They were just standing outside the fence. They weren't going in there or running anywhere."
The Journal reported that federal marshals handcuffed Gomez for "intervening in an active crime scene," but she persuaded Uvalde police to let her go. Then she slipped away, hopped a fence and ran into the school, coming out with her children.
She told the Journal she saw officers pepper spray one woman and tackle a man to the ground.
*BREAKING* Robb Elementary School shooting. Uvalde Texas. This video shows the chaos outside of the school where parents were trying to find their children.#Uvalde #RobbElementary #SchoolShooting pic.twitter.com/yx97i6Bh9w

— TheFamily'sSoup TV (@FamilysSoupTV) May 25, 2022
While this was going on, Ramos was in the building from the time he first entered the school at about 11:40 a.m. until a Border Patrol tactical team entered and eventually shot and killed him just before 1 p.m., Escalon said.
Border Patrol Chief Raul Ortiz told Fox New that his agents did not hesitate once they arrived at the school, although he didn't give a timeline, ABC News reported.
"What we wanted to make sure is to act quickly, act swiftly, and that's exactly what those agents did," Ortiz said.
Escalon appeared to have no answers about the changing timeline, telling reporters he was "taking all your questions … back to talk to the team."
Often, in the early moments of an incident like a school shooting, false information spreads quickly, before officials are able to shut it down. Uvalde school police, who held the first few media briefings in the town just after the shooting, offered practically no information at all and took no questions, even as Gov Greg Abbott was providing casualty numbers and naming the gunman. They stressed that they would release information as soon as they had confirmed information to share, although they did post that the shooter was in custody almost 10 minutes after he had been killed.
But now, state officials are contending with information from their own department they now say was "inaccurate."
For the latest true crime and justice news, subscribe to the 'Crime Stories with Nancy Grace' podcast.
[Featured image: Crosses with the names of Tuesday's shooting victims are placed outside Robb Elementary School in Uvalde, Texas, on May 26, 2022. (AP Photo/Jae C. Hong)]