Updated: Friday 2:42 p.m. ET
A former friend of Lori Vallow and Chad Daybell will reportedly testify that Vallow's niece Melani Pawlowski visited the newlywed couple in Hawaii after Vallow's two children disappeared.
Fox 10 Phoenix reporter Justin Lum shared court documents submitted by Melani's ex-husband Brandon Boudreaux listing witnesses and evidence to be presented at a July 1 custody hearing. The documents show that Melanie Gibb will testify that Melani Pawlowski (listed as Melani Boudreaux  and "Mother" in the documents) visited her aunt in Hawaii in October.  Vallow and Daybell reportedly married there in early November, but there is no indication that Daybell was in Hawaii at the time Vallow's niece was reportedly there.
In late November,  when police came to Vallow's home in Rexburg, Idaho, to perform a requested wellness check, they discovered the children were missing. Vallow is believed to have lied about their whereabouts. She also allegedly asked Melanie Gibb to tell police that 7-year-old JJ Vallow was with her in Arizona, even though he was not. Both JJ and his sister, 17-year-old Tylee Ryan, were found dead in Daybell's backyard last week, leading to Daybell's arrest on charges of obstruction and concealing evidence
Vallow is in custody in neighboring Madison County, awaiting trial on charges of felony child desertion.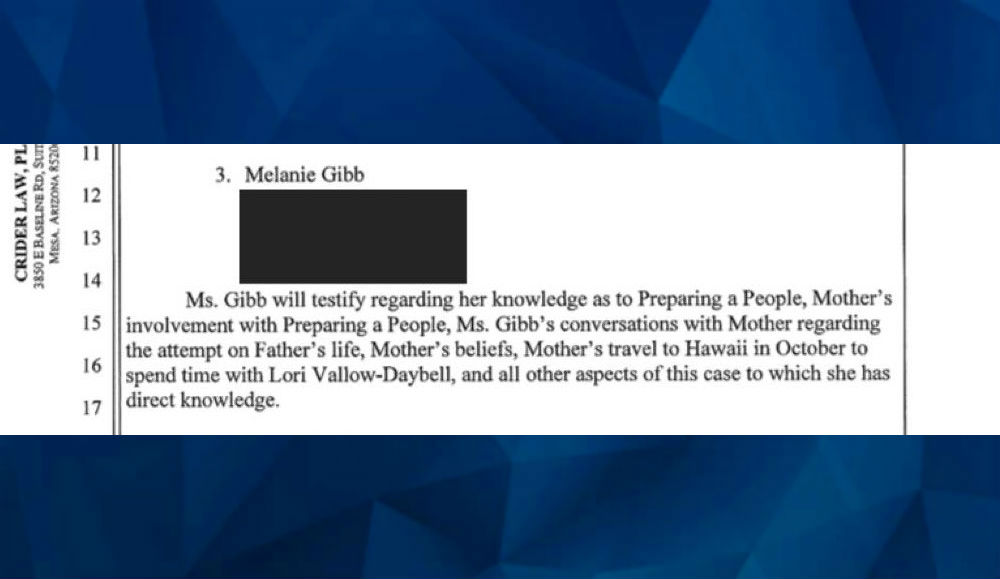 The court documents also reference Preparing a People, a so-called media organization that published books and podcasts about the end of days. Daybell is believed to have been a prominent member, and Vallow and Gibb were also actively involved.
Gibb herself admitted in an interview last month with East Idaho News that she visited Vallow and Daybell in Idaho, after the children were last seen alive. She told reporter Nate Eaton she didn't think it was alarming at the time that Vallow's children were not around. She said Vallow told her that Tylee had completed her GED and had gone to Brigham Young University-Idaho.
But in the same interview Gibb also described a visit to the BYU Idaho campus with Chad and Lori, saying that they were publicly affectionate with each other as they walked campus grounds, even though Chad was still married (his wife Tammy Daybell died on October 19.) There was no mention of Tylee in that portion of the interview.
In an upcoming interview on "Dateline," Gibb will again discuss Lori and Chad's relationship. In a preview clip, she says that both Lori and Chad were equally destructive — characterizing their dynamic as "gasoline and fire" — but also says Daybell appeared to be in control.
"l saw him as the hand and her as the puppet on that hand," she said.
Correction: An earlier version of this story reported, based on the court documents, that Melanie Pawlowski visited both Chad Daybell and Lori Vallow in Hawaii in October. It appears that Vallow may have been in Hawaii without Daybell at that time. 
READ MORE:
SEE IT: Video shows investigators at 'doomsday' husband Chad Daybell's home; K9 dogs search yard [REPORT]
'Tylee and JJ needed to die': 'Cult Mom' Lori Vallow believed her children were zombies, relative says [Report]
'Red flag' missed? Police share new details about Tammy Daybell's death, 'paintball gun' attack days before
Idaho judge SLASHES Lori Vallow's bail as children remain missing; will 'Doomsday' mom walk out of jail today?
Chad Daybell made 'significant' increase to wife's life insurance policy DAYS before her sudden death; son says dad has 'done some bad things': Report 
'Lori what the $#!# happened': Text messages show 'cult' mom Lori Vallow refusing to answer questions about husband Charles Vallow's death; leaves his sons in the dark for DAYS
Missing Tylee Ryan's aunt says Lori Vallow waited WEEKS to inform relatives of Joseph Ryan's sudden death
'Cult' mom Lori Vallow didn't attend husband's funeral; son says he doesn't believe story about Charles Vallow's death and fears for his own safety
Click here to read all of CrimeOnline's coverage of the Vallow case. 
For the latest true crime and justice news, subscribe to the 'Crime Stories with Nancy Grace' podcast. Listen to the latest episode: